I picked her up at her friend's house – as usual she resisted the departure – and we walked toward the metro to make our way home, Buddy-roo swinging her bag of tiny plastic Pet-shop animals, describing the trades she'd made and the status of her expanding collection. She is eleven, dancing in the elastic world between child and adolescent, one moment knee-deep in blocks, dollhouses and little plastic pets, the next moment in front of her mirror, anguishing over an invisible pimple or the loss of a favorite hairband.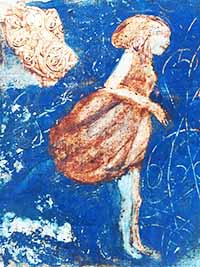 "Do you know what tomorrow is?" she asked.
I knew where this was going, but I didn't answer.
"It's Mother's Day!"
Again, I offered no response. It's never been a holiday – if you can call it that – I am too attached to. Not that I mind the setting aside of a day to appreciate mothers of the world, but inevitably the day disappoints. There's always a residue of "last minute" and the sentiment is short-lived. The home-made cards and big-morning-fuss are sweet and tender, but by mid-day everyone's put it behind them and I'm the one folding laundry, replacing empty toilet paper rolls and nudging people to do the chores they're supposed to do without me asking. Not to mention the kitchen sink is filled with all the dishes used to make me my special breakfast in bed.
"Did you know it was Mother's Day?" she asked.
I didn't want to answer this question, either.
"You knew," she said. "Why didn't you tell us?"
I tried to explain how this is the sort of thing you don't want to have to remind people about. You're not supposed to make an announcement at dinner the week before, about how the coming Sunday is Mother's Day so don't forget to show me the love, folks. The idea is that I might be surprised and delighted by the gestures my family offers up without having to prompt them.
"But you should have told us so we could do something for you," her voice revving up to a whine. "I haven't done anything for you and it's tomorrow!"
Part of me wanted to calm her down, to tell her she didn't have to do anything because it's a silly Hallmark holiday. Another part of me thought, really how could they not know? It's in the window of ten storefronts on our street, it was advertised on web-sites all week and I received at least a half-dozen emails in the last few days promoting Mother's Day specials. Mother's Day always falls on a Sunday in May, so when May rolls around, how hard is it to pay attention? Why is it the mom that has to remember and organize everything?
"It just doesn't feel right, to have to remind you," I said.
~ ~ ~
We celebrated the Spanish Mother's Day, which was on Sunday, a week ago. Short-pants delivered a cup of coffee with frothy milk to my bed. She does that every weekend morning, but this time it was presented with mom-appreciating aplomb. Buddy-roo paraded in with hand-made gifts she'd made the night before after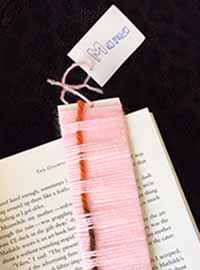 searching the Internet for quick and crafty items. A bookmark she'd made smelled heavily of glue not yet dry, but charmed me with it's design, and you have to give her credit for the quick recovery. De-facto left the bedroom and re-appeared with a bouquet of a dozen pink roses he'd hidden in her closet.
"She got mad that I'd put them in her closet without getting her permission," he whispered, out loud. Buddy-roo glared at him and then turned to me and shrugged her shoulders.
The plan for the day was a family walk, up the mountain behind where we live to a small hillside restaurant for lunch. I'd asked for three uninterrupted hours to myself, first, to linger in bed with my laptop. The uninterrupted part of my request was not exactly achieved, but I was undisturbed enough to finish editing a chapter and feel like I'd made some progress on my manuscript, which is chugging along at a tortoise's pace.
I don't know what went wrong, exactly. Maybe the girls didn't eat breakfast, or didn't have enough to eat. Maybe De-facto's repeated urging to finish homework before our walk annoyed Buddy-roo, who then kept asking her sister to help her, which put Short-pants in a bad mood. When it was time to put the dog on the leash and head out the door, both of my daughters were stomping and screeching at each other. Buddy-roo refused to go on the walk if Short-pants was going. Short-pants announced that she'd only go if Buddy-roo went, too.
After a few futile attempts to reason with them, reminding them how much I was looking forward to this Mother's Day family walk, my annoyance was escalating, too. I was on the verge of screaming at them, "It's my fucking day, put your damn shoes on!" As satisfying as that would have been, I've been a mother long enough to know that while such a command might achieve full compliance, it wouldn't inspire the kind of we're-happy-together experience that Mother's Day memories are made of.
"Winston and I will be waiting outside," I said, snapping the leash onto his collar and trying not to slam the door on our way out. I left it to De-facto to handle the girls. It was supposed to be my day off, wasn't it?
~ ~ ~
At dinner that night we talked about what had happened. Buddy-roo apologized for missing the family walk. I told her I was disappointed, but I appreciated that she'd finished her homework in our absence and was in a good mood when we'd returned home. Short-pants, who'd rallied and joined us for the trek up the mountain and lunch at the café terrace, admitted that she'd enjoyed the walk even though her sister hadn't accompanied us.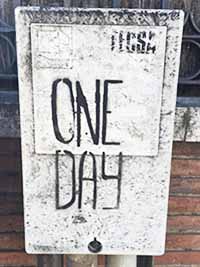 "But it's not fair," said Short-pants, "that you get celebrated on your birthday, and you get Mother's Day, too."
"And Papa gets Father's Day," said Buddy-roo, "that's not fair either."
"Why isn't there a Kid's Day?" Short-pants said, with her mouth full of food.
"Please don't talk with your mouth full." I said, "and you do get Kid's Day. It's called Christmas."
"You get Christmas, too."
"Not like you do. And you also get Easter, and Halloween." I was on a roll. "All those holidays are fun for kids, but they mean more work for moms. Is that fair?"
They shook their heads, in unison, quieted by my logic.
That's why mothers get an extra day. And maybe even two extra days, since I snuck in a few special requests today, on American Mother's Day, and everyone cheerfully complied.