It's been more than twenty years since I moved abroad, and yet there are still some American products so cherished that I import them each time I return from a trip to the states. You don't realize how accustomed you become to certain products until, after trying the local version,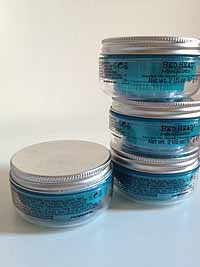 you start to get homesick for your favorite brands. People ask me what I miss about the states, and of course I reply first about the people I don't get to see enough: my family, college friends, childhood buddies. But then I have to admit that I long for simple household items, like cotton swabs and dental floss. I've tried to buy those innocuous but useful items in my host countries, but nothing beats a Q-tip or a string of Glide floss. There's a list of special American brands that I prefer, and so on each trip to the states I make a quick stop at the neighborhood CVS or Walgreens and pick up a stash of my favorite brands. Many friends who come to visit have played carrier pigeon to specifically named brands of maple syrup, peanut butter and a carefully described feminine products. Anyone flying east over the Atlantic, if they are willing, comes with some goodies to keep my inventory flush.
Since our move to Barcelona, I've been hit with a double-whammy. Now there's a brand new list of French products I've come to rely on that either have inferior replacements in Spain or don't exist at all here. I've spent the last few months hunting through different markets and pharmacies in my new neighborhood and further afield, hoping to find a comparable toothpaste or hair gel – don't even get started with me about face creams – without satisfaction.
At first, it was just about stocking up. I'd come back from a quick 2-day trip to Paris with a fresh haircut and a suitcase topped off with the favorite soaps and spices. I liked having a stash of my favorite stuff under the sink, or in that top corner cupboard. I felt comforted by the presence of my familiar products. With each trip – I end up going to Paris almost monthly, just for a day or two – I'll do a drive-by my old local supermarket and pharmacy, and even though I have three boxes of Marvis Italian toothpaste in the cupboard in Barcelona, I feel compelled to buy another. "Who knows when I'll be back again?" I tell myself, even though I've already booked the plane ticket for next month. "I might as well get some more – just in case."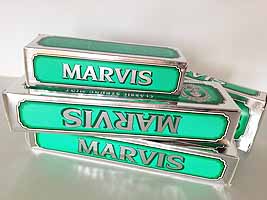 With each trip, my inventory grows, which prompted me to initiate a conversation with De-facto about how one behaves in the context of scarcity and abundance, how I like to keep a healthy stash of my favorite supplies. Not that I'm wasteful, but that I like the abundance so I don't have to skimp. I'm happy when there's a reserve.
"That's not about abundance," he told me, "that's about hoarding."
If a stranger came to my home and looked in the cupboards under my kitchen and bathroom sinks, (s)he'd certainly sense the OCD quality of my acquisitions. You can tell immediately which products I covet because there are no less than four packages of each, and often more. And if I get down to just one on deck, I must admit, I get a bit nervous.
Is this how it starts, the wacky old lady bit? I remember, growing up, how there was an eccentric old man who lived in a big house and it was said he hoarded so many things you couldn't even walk in the rooms. Most notable was his alleged possession of every issue of the New York Times since he started to read. I'm pretty sure this was an urban myth – or a rural myth, my hometown was pretty small – but the image of him stays with me, the way he shuffled down the street, newspaper in hand. Is this my future?
My mother had a little hoarder in her. She saved every issue of Good Housekeeping, from the time she started keeping house in the 1950s, labeled in cartons in the backroom, which at one point was impenetrable. She did a lot of just-in-case saving, but she lived in that big old house so why not? It's certainly not the reason that prompted our move, but it's been a fringe benefit: I cleared out a lot of clutter from our Paris apartment when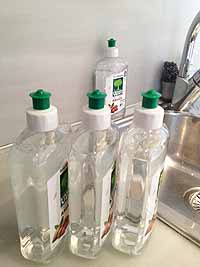 I prepared it for our (heroic) renter. But of course if ask you him about this, he'll laugh. There's still a lot left, things I haven't figured out how to part with.
But that's the sentimental stuff. Now I have this new compulsion, like a mad squirrel stowing things away for the winter, to keep my cabinets filled with my favorite things from not only the states, but from France, too. Is this me holding on too firmly to the life I loved in Paris? Or just an obsession with good quality or familiar products not yet replaced in the new hometown?
I was in Paris last week, and I'm about to go to the states next week, so at the moment my tendency to hoard is at an all time high. But still, if you're coming to visit us in Barcelona, from France or from America, do let me know how much room you have in your suitcase. I'll give you a list of just what to bring.