Two greengage trees, on the edge of our property, produce the sweetest plum-like fruit. Last month, the trees were flush with little round green plums, promising a bountiful harvest when they'd ripen, at the end of August. Knowing we'd return to the country house for the last week of summer, I envisioned the pies, tarts and marmalade that would result from such a robust yield.
I didn't even know the trees produced fruit until the Pastry Ace paid us a visit and with her keen culinary eye, pointing out all sorts of fruit growing on or around our property that I'd never noticed. Since then, I've watched these plum trees fill out with little round fruit, but I don't always get to harvest them because often we're gone when they ripen. Last year our cross-America tour pulled us away for the last half of the summer. Who knows what it was the year before; we were moving to Barcelona and otherwise occupied. We tend to use the country house in July, and do other things in August, sometimes returning for the last week, sometimes not.
~ ~ ~
After my annual escape to Pamplona in early July, I returned to our country house just in time to make the neuron-cake that Short-pants requested for her birthday. (Try that with a hangover after a week-long party.) Soon after,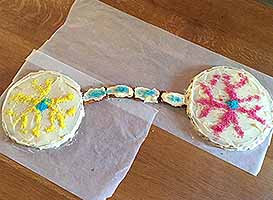 De-facto and I flew to the states for work – a neighbor stayed here with the girls – returning to the country house for a week or so before a wedding in Italy called us to the Adriatic coast. We crawled back to Barcelona in heavy traffic, wanting only to stay put, quietly, which we did for a week or so before a return to the country house for the last week of summer, our last hurrah, and maybe finally some time to relax, before submerging again into the routine of work and school.
August is the height of the vacation period in Europe. The cities turn quiet – both Paris and Barcelona, like other European capitals, seem to lose half of their local population. Streets clear out and the energy of vacation covers the city like a heavy beach blanket. It's still full-on summertime, warm and sunny and relaxed, but the moment the calendar clicks from July 31 to August 1, there's a sense of melancholy. July is bright and bouncy with the youthful energy of summer fun. August comes with a big sigh, signaling that all good things must end, that summer is rolling by, rapidly, and fall is just a few footsteps away.
~ ~ ~
But I had the greengages to temper my August melancholy. On our drive north from Barcelona to the country house, I pictured those trees covered with juicy, yellow-green plums, and I promised Short-pants and Buddy-roo I'd make pies with top crusts bulging with fruit. Maybe I'd even freeze one and leave it for our return in October.
Minutes after our arrival, I sprinted out to the corner of our land where the two trees stand, ready to pluck a plum off a branch and savor its sweetness. The next day I'd fill up a big bowl and move the fruit directly from tree to pie, but I was impatient to appreciate the inventory. Winston galloped after me, not knowing why, but sensing my anticipation.
I ran down the road and jumped over the ditch and found my two trees, thick with green leaves fluttering in the late afternoon breeze – and not one single plum.
Gone. They were all gone.
I recall, now, a few summers ago, going out to inspect the trees in August to find them empty. But it had been a very wet spring and summer. I hadn't gotten any grapes that season either. It was weird, but it was an anomaly, so I thought. But given that just a few weeks ago I'd seen both trees covered in fruit, something was very wrong.
I looked closer. This couldn't be the work of birds. The tree had been cleaned, top to bottom. Not even one stray plum hung from any of the branches.
I'm bewildered that someone would clear out all the fruit from both of the trees. Though near the road, they are not obviously visible to a passing car. Somebody knows that the trees are there and possibly they've come every year – except the years we happened to be here in August – to help themselves. They must see our house locked tight without a car in front, and they stop and clear out our plum supply. But seriously, they must have had a ladder! There were plums all the way to the tops of those trees. This was a deliberate harvest. Not just let's grab a few fruit while passing by. They took everything.
Grudgingly, I bought greengages (known as Reine-Claude in French) at the market. They are a precious fruit, coveted (apparently). I had my heart set on a plum pie. Buy it's not the same, not the same as pruning the tree, weeding around it, watching the little beans turn into berries and into plump little plums, picking them yourself and knowing they came from your own land and your good effort. There's that, plus the sheer cheekiness of the perpetrators and the feeling of violation that accompanies the loss of something you believed to be yours.
They must have been yummy. This summer has been hot and dry, and this is good for all the fruit on our property. The grapes that get morning sun are already ripe; I picked them yesterday and served them with our luncheon cheese plate. The grapes that see sun only in the afternoon are not quite ready for harvesting, but there have never been so many grapes hanging from my vines, in all the seasons I've been tending them.
The endrina (a.k.a. sloe berry) tree on our property is also bountiful. And another one at the end of the road, on our neighbor's land, is covered in little blue fruit and far easier to reach. I'd been eyeballing it, thinking about the next batch of patxaran. I might not have thought much about helping myself to a few of those blue berries, until now. Yesterday, I walked down and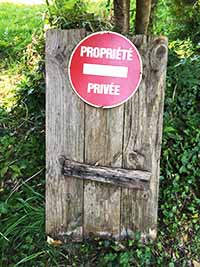 chatted with the neighbor, asking if she minded if I took a few bowls of those berries before I left.
"Take them all," she said, waving me off. "We can't use them."
I am reminded that my children and my man – and my mother-in-love, who is with us now – are all safe and healthy. And the fruit poachers did not break into our home and damage or remove anything. Not that our purposefully rustic country house contains any possessions of great value, but such theft or vandalism would disrupt the peaceful rhythm of our stay here. Still, it smarts, that somebody stole my plums and dashed my dreams of the perfect pie. Of course, there's always next year's crop. We'll just have to come up with a strategy to keep those plum thieves away.