I sliced peaches into a bowl of vanilla ice-cream while Buddy-roo scrolled through the options in my computer's movie folder. It had been an ideal summer day at the country house: bike rides down the lane with Winston running joyously beside us, a little bit of yard work, trimming grapes and pulling ivy off the walls of the stone house, De-facto making progress on a construction project in the bergerie. A late afternoon trip to the lake with sailing and swimming, followed by an apéro on the back terrace, then burgers and chicken from the grill with a chilled pale rosé. As soon as the sun set – and it sets late at this time of the year – we'd planned to gather around my computer to watch a movie. Buddy-roo, our media-kid, had been begging for one all day, and was sustained through the outdoorsy activity only by the promise of a movie after sunset. It was between Guardians of the Galaxy and Malificent, in her mind. I was lobbying for The Way Way Back, when I heard De-facto shouting from outside. I ran out to see him doubled over, just down the road. He motioned to me, urgently.
"Winston's dead." His voice strained. "A car. He ran into the road. Wouldn't come when I called." His chest was heaving, his face anguished. I held his hands; they were shaking.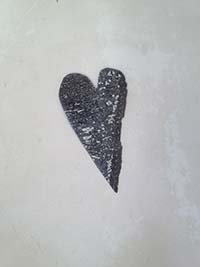 "I heard the sound. When he was hit. It was awful."
"But where is he?" I needed to see Winston, lifeless, to believe it.
That was the worst – or the weirdest – part. De-facto couldn't find the dog. They'd been at the edge of a track road that runs into a main road behind our house, a road on which cars speed by. Winston can be cheeky, but he usually minds us when call him to head back home. This time he'd dashed into the road and stood there, his head was probably extended upwards sniffing at something in the air. De-facto heard the car coming and yelled to Winston to get out of the road. Though he didn't see it happen – the tall field grass was in the way – De-facto heard clearly the sound of car meeting dog. He'd cried out,"Nooooo!" but we did didn't hear him, crowded around our kitchen island contemplating movie titles, 300 meters away.
De-facto ran to the road, expecting to find the mangled body of our beloved dog. There was nothing there. No evidence of an accident. No broken plastic pieces from a car. No blood, no hair. No dog. He looked in the ditches, but no sign of Winston. That's when he ran back to the house, when he called me to come outside.
By now the rest of the family joined us. Buddy-roo saw De-facto holding my hand, his head bowed, and noticed the absence of our dog and collapsed in the road. Short-pants and my mother-in-love hugged each other, shocked at the news.
"We've got to find him." De-facto's anguish commanded us to the task. He started barking orders, which we all accepted dutifully. He and Buddy-roo drove off in the direction that the car had been going, to see if they could find Winston or its driver. I ran down to the spot in the road where the accident occurred to search again for his body.
I couldn't piece it together, everything went into a spin. He couldn't be gone. I pictured Winston's empty basket, the bed he sleeps and his food and water bowls; how we'd look at them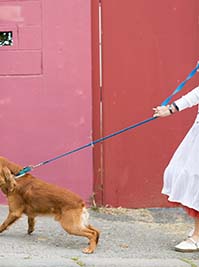 tomorrow, empty, and how we'd grieve. We haven't had him in our lives even two years. It took half of that time for him to get to know us, to let go whatever fear he carried with him from his life prior to us bringing him home from the rescue center. For more than a year, he was even standoffish, a dog that only loved us loving him. It was until very recently that I had the feeling he had actually started to love us back.
We'd become a family with a dog. And now – way too soon – our dog was gone.
There was nothing on either shoulder of the road. I scoured the ditches for a red-haired body with its blue harness. Maybe the impact had thrown him away from the road into the thick of bushes and trees. I was about to head home and change out of my sundress and flip-flops into long pants and boots in order to search in the weeds and briars beyond the ditches, when I saw De-facto, in our car, driving toward me.
"He's alive!" He stopped the car. "Get in!"
We rushed back to the village – at least a 1.5 km distance – where I saw Buddy-roo standing with a young couple, staring at the front of their car. De-facto pulled in beside them; I didn't wait for the car to stop before jumping out. There was Winston. Neatly wedged into the front grill of the car, his paws hanging out comfortably, his head moving from side-to-side. He panted and blinked, like nothing was the matter. He did not bark. He did not whimper. He looked only slightly relieved to see us after his little joyride.
The couple in the car had already called the pompiers, and though De-facto wanted to take the bumper apart and free Winston immediately, we persuaded him to wait. There was no blood, and Winston did not appear to be in pain, but who knew what kind of internal injuries he might have suffered. They would have tools to extract him carefully from the grill of the car and avoid further injury.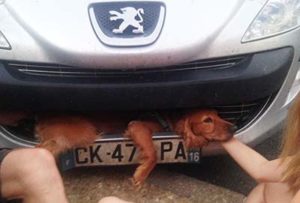 It was probably only 15 or 20 minutes, but if felt like hours before the firemen arrived. They probably did exactly what De-facto wanted to do, dismantled the bumper and stretched open the grill where Winston had been squeezed in. Winston stepped out, like slipping out of a train berth, and even stood up on the sidewalk for several moments before collapsing. There was not one cut on him. No external marks or bruises. All bones appeared to be straight. No blood, anywhere.
I'm still not sure why the driver of the car didn't pull over sooner, why he drove past several turn-offs and driveways and continued all the way to the village. Winston must have had the ride of his life, a full front bumper view of a French country road for nearly 2 km.
The pompiers helped us locate a veterinarian, who, even at 10:00 on a Saturday night, opened his office to attend to Winston. After a thorough physical examination and a series of X-rays, Winston appears to have suffered only 2 cracked ribs and some mild internal swelling. He's on anti-inflammation medicine now. He's moving a bit slower, as you'd expect, but he walks, and even trots a little. He still manages to be underfoot, sitting in exactly the spot you want to stand, in front of the very cupboard you need to access, or just at the base of the refrigerator at the moment you want to open it. Not only is he alive, he's his old self.
If things come in threes, then I've used up two of the three miracles I'm allotted in this life. A dozen years ago we almost lost Short-pants and even the doctors called her recovery a miracle. Searching the ditches for Winston's body, I was transported back to those brutal days when we didn't know if Short-pants would make it or not, standing on the threshold of grief, wondering if we'd have to enter its dark room. The pain of almost losing our dog reminds me of the pain of almost losing our child, which puts me in touch with the pain of so many people this year who did lose someone they loved: in Paris, Istanbul, San Bernadino, Orlando, Dallas, Baton Rouge, just last week in Nice, and dozens of other places that don't get enough media attention but merit our mindfulness as well. There's so much loss in the world, it's hard to hold on to hope.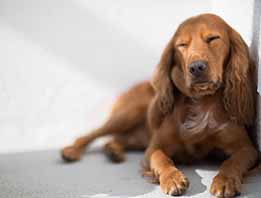 Short-pants felt terrible because, as she put it, she loves Winston the least in the family. It was a wake-up call to her, thinking he might be gone, to appreciate him more. Near-misses like this can be gifts, it's true, to remind us to appreciate the present and the people – and animals – who are here for us to love right now, in this moment. We don't know when they will be swept away from us. (Even if it's if only for a few moments, in the grill of a stranger's car.) Seizing the joy of the day is how we avoid regrets.
Yesterday Buddy-roo and I took Winston back to the vet for a controle to check that everything is okay. He's been vomiting repeatedly and the vet took another X-ray to look at his internal organs. There's some additional inflammation in his stomach and esophagus that's causing it, and we hope the medicine will kick in soon and he'll start eating normally again.
While he was getting his X-ray, Buddy-roo and I sat together in the waiting room, running through the events – and the rollercoaster of emotions – of the previous 24 hours. We keep going through it in our heads, again and again, what happened, what could have happened, what didn't happen. We've all been shaking our heads, doing a dance between disbelief and relief. I'm exhausted from the rapid cycle through so many emotions in such a short span of time.
Buddy-roo reached over, took my hand and caressed it.
"Mama," she said, her voice pitched perfectly between laughing and crying, "tonight, can we just watch a movie, rather than living it?"