It wasn't like we didn't know we'd be uprooting ourselves, leaving the familiar routines and our favorite people. This had all been contemplated last spring before we filled in the paperwork to apply to the new school. At every social occasion, once that decision had been made, I'd survey the room and nod to myself that I would miss these people. During our last months in Paris I reviewed the routines that had become so natural to me, the morning school drop-off and coffee klatch afterward, the passages courvertes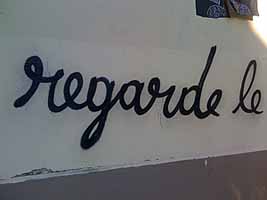 I'd walk through on my way to the beauty nurse or to get my hair cut, the favorite bar stools at my neighborhood hangout, the friendly banter with my pharmacist or the lady at the patisserie, knowing that these would soon become part of my fond memories of Paris and I have to carve out new rituals in their place.
Nor was I naïve about losing the support network we've built over the years; other mothers to call when Buddy-roo forgets to bring the necessary books home for her homework, babysitters and child-care helpers to ease the after school commute home or to cover when both De-facto and I travel for work. We'd discussed rejecting any work that took us both out of town at the same time, at least for the first few months, not only to provide continuity of parental support for the girls as they adjust to the new environment, but to give us the time to find someone we could trust and who could tolerate our children for a week at a time. In Paris, the part-time nanny who'd helped when the kids were babies had moved on to another day job, but her brother could handle afternoons and she'd move right into our home when we traveled, taking over the household. She was like family; she knew the girls as if they were her own, what they liked to eat and how to manage their emotional swings. We knew this would be hard to recreate. Not impossible, but it would take time to find someone who could take care of them like that.
As quickly as we vowed not to be out of town simultaneously, the demands came. A project slated for June was rescheduled to September, in Moscow. Not a problem, until De-facto received a request to give a keynote at a conference in London that very same week. I grumbled when I found out he'd accepted; we'd agreed not to travel at the same time and my job had been in the calendar first. But keynoting is the thing he loves to do and wants to do more, so how could I grumble, really, at his plum assignment?
We hobbled together a plan involving a university student who tutors the girls in Spanish (and Catalan) and our new cleaner who speaks not a word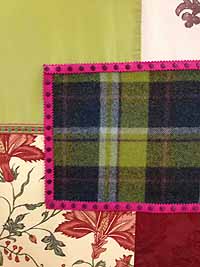 of English, so I could fly off for a week hoping the two days De-facto would be gone would go without a hitch. But the real hurdle was still ahead. Despite the proclamation not to travel at the same time, another assignment came in, a pretty juicy and interesting job one that would require the both of us to go to Altanta, together. I remember thinking it was too much and volunteering to stand down and stay at home.
"Don't be ridiculous," De-facto said, "this will force us to find someone."
He was right about that. Each day that ticked by I tried to sort out how we'd manage it. I attended all the welcome coffees hosted by seasoned mothers at the school – gestures to help newcomers get acquainted with the school community and begin to make friends – putting the word out that we needed to find a reliable person to move in with our children for a whole week, and fairly soon.
I expected to be met with judgment – how could you move our children to a new city and leave them there within a month of getting settled in a new apartment with a new school? But this was only my self admonishment. The women I discussed this with were empathetic and resourceful, suggesting former nannies, possible babysitters and at least three of them volunteering to take the girls if we ended up without any other option. I was heartened by their support, but none of the solutions felt easy to orchestrate. Uprooting the girls and putting them in the house of someone they didn't really know felt a bit harsh. It seemed an imposition to ask a family to take them in for seven full days, but the idea of cobbling together a few days with one family and then moving to another felt like a nightmare to choreograph. I'm already mildly obsessed with notes and schedules for the girls when I travel. Coordinating a mid-week hand-off with people I barely knew would require more organization than I wanted to endeavor. We needed someone to move in with the girls in our new home, for more than a week, and in only a few week's time.
~ ~ ~
It was good to get away. De-facto walked me out to hail a cab and waved as it pulled away. I settled into the seat as the driver headed to the airport, relieved, for the first time in a long while, to be heading somewhere alone. I have always enjoyed traveling solo, and it could be said that these last months did not deliver my minimum requirements of solitude. In the airport lounge waiting for boarding call for Moscow I was almost giddy to be going somewhere, somewhere else and on my own.
I am a better mother if I get a break now and then.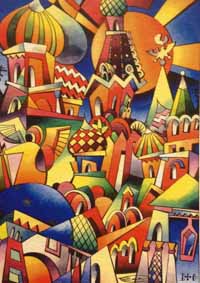 The thing about my business travel is once you get there you don't get out much. The meetings I run are immersive and intense, and most of the day is spent inside the hotel or conference center. This trip was no different except for the view out the meeting room window, a constant reminder that we were someplace very different and that Red Square, and the babushka selling the Matryoshka nesting dolls I would buy to take home to the girls, was only a stone's throw away.
The week sped by while I juggled the progress of the meeting with the remote organization of things at home. De-facto had left. Someone else had arrived. She'd dropped them at school. The hand-off was made. De-facto returned. The girls marched along with each step of the plan without complaint, un-phased by the changing of the guard, and a new guard at that. We've trained them to be flexible, or they're remarkably resilient – or both.
~ ~ ~
While I was in Moscow I got word from an agency, one suggested to me by one of the mothers at one of those morning coffee meet-ups. They had a candidate for me to meet, a mature woman who could speak French with the kids, but Spanish if there were an emergency and even a little bit of English. She would come stay with the kids and feed them, get them to school, nudge them on their homework but go about her own jewelry-making business during the day. The price was fair, her references reliable. Then last week she came by to meet us to see if it was the right fit. Short-pants was friendly enough, but as she's on the threshold of her teen years she decides, sometimes, not to be enthusiastic. Buddy-roo played shy girl at first, hiding in the (as yet) unfilled bookshelves of out living room and behind half open doors as I gave a tour of the apartment and shared what would be the schedule for the week we're away. But by the time we'd made it upstairs to show off the girls' universe, she'd come around.
"These are the Fisher Price Toys," she boasted. "They were my mom's but now they're mine."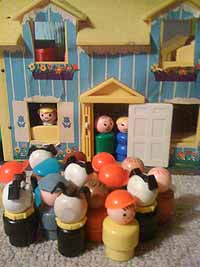 Buddy-roo described the ongoing story line for each of the pieces that were set up, in play if you will, on the floor of her room. The family in the house that always has visitors, or the couple that ran away with all their things piled on the houseboat. (Sound familiar?) Then she turned to her collection of stuffed animals. The new nanny sat down on the bed as Buddy-roo introduced each one, one by one. I stepped backward out of the room, into the hall, listening to their conversation. Soon I slipped downstairs to finish my work for the day.
A half an hour later they came down, hand in hand. We went over the final details for her stay, I showed her the kitchen and told how we'd stock up with food before we left. We went over all the drop-offs and pick-ups and bed times and special perks. She seemed cool, like someone I'd hang out with. She wore gray Chuck Taylors and cool hand-made earrings, but she hadn't hesitated to get on the floor and play with a 10-year old. When she picked up her bag and moved toward the door, Buddy-roo ran up and threw her arms around her, begging her not to go. For me, a huge relief, the dull ache I'd been carrying all month, seemingly sorted out. It's not ideal, I wish we knew her better. I wish we'd had the chance to do a trial run. But I have a good feeling about her, and I trust Buddy-roo's sense on this one too. And now I can go, with at least a minimized stress concern, knowing that someone can be there with the girls, taking care.