Because De-facto and I have never tied the knot, officially, we're always at a loss about celebrating an anniversary. We met at a week-long creativity workshop – the one person we knew in common there was his mother – that for many years started on the third Sunday in June and ran through the following Friday. Both De-facto and I had come in the day before, and it was on that Saturday night, the eve of the conference, when he first saw me dancing at the pub and I first saw him walking behind me on the breezeway, his grin all innocent and mischievous at once. We turned toward each other and stayed that way, chatting on the campus lawn and late into the night in a dormitory stairwell. We spent a good part of that week together, and on the night after the conference ended, we even went out to dinner at a nearby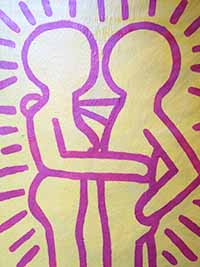 restaurant. I suppose you could call that our first date. We could google the calendar for June of 1996 and figure out the exact dates: that Saturday before CPSI or the Friday on the other end. But we could also identify the date, two days after the workshop, when I flew to Boston to see him instead of flying home to Paris, or the date he flew to visit me in France, two months later.
If we were mawkish we might celebrate all those firsts, and even the firsts I haven't mentioned here. But we don't. We end up giving each other a subtle head nod every June. It's approximate: it might be on the third weekend of the month, or thereabouts, one of us will remember and send a card or leave a Post-it on the bathroom mirror to remind the other that it was X years ago this whole party started.
Part of me misses having a distinct anniversary to celebrate – an etched-in-stone beginning of our committed relationship that merits romantic notes, flowers and gifts, dinners out. A pair of friends just celebrated a silver anniversary, and we know other couples creeping toward such a milestone celebration. We're still taking it one year at a time.
There is a date, though, a day on the calendar that we rarely forget. I remember it mostly as the Sunday before Thanksgiving. Sometimes I also take a deep breath on November 21st, the date of that Sunday ten (really, already?) years ago, in 2004. It's a day I celebrate now because we survived it, all of us.
Standing at the kitchen island of my girlfriend's New York apartment, each phone call delivering news that was harder to hear than the last. Short-pants had passed out. Our nanny had called the ambulance. The EMT guessed it was something neurological. Our neighbors who'd crossed the street to help started using words like convulsion and coma. The party that had prompted us to leave the kids in Paris to come to New York, just for the weekend to celebrate his mother's 75th birthday, now soured by the news that her granddaughter had been rushed to the hospital for emergency surgery, a surgery that took place while we hurriedly packed our bags and sped to the airport to catch a flight home to Paris. Just before boarding, we got a phone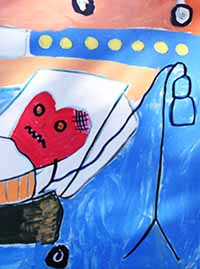 call from the surgeon. Short-pants had made it through the operation but it was a long night ahead. Come straight to the hospital after you land, he said.
We did. When they let us in to see her she was a narrow bump in a big bed, with tubes and wires attached and a gauze skull cap. The next days a blur of doctors and nurses and beeping machines and hours spent at her bedside in the ICU. The cancer they'd feared in our first meeting turned out to be a brain abscess – not nearly as ferocious a predator but perhaps more mysterious. Six weeks in the ICU and countless tests, scans and procedures until finally a second brain surgery was necessary to remove it. Thanksgiving, Christmas and New Year's passed, our days split between being at her side in the hospital and being at home with Buddy-roo, who was too young to have any clue of how important she was in this whole ordeal, standing with her sweet little arms up in the air every time we returned from a grueling day at the ICU, wiped out and beaten down. Her smile and kicky-legs a constant reminder to keep hoping, keep loving, keep trying to keep it together. She needed us too.
Just after New Years, Short-pants was sent home, the cause of her mystery illness never determined but the ugly thing removed from her head and a plan for rehabilitation underway. The next weeks, months and year presented their own challenges, but she survived. Her mental capacity intact, she learned to walk again, to master motor skills she'd lost, to be a healthy little girl. She survived, and then some.
Ten years cascade by and the mother-in-love just celebrated another milestone birthday. Short-pants does all the things a 13-year old adolescent is supposed to do. Her sister adores and resents her, they're just like normal siblings. Thanksgiving approaches and conjures up the memory of those cool fall-turning-winter nights when I'd walk home from the metro after a daylong vigil at the hospital, desperate for some news to turn things around, each day disappointed until the very end, when by some miracle, her miracle, she recovered. And little by little – it took time – we all recovered from it, from the shock, the strain, the exhaustion of the whole ordeal.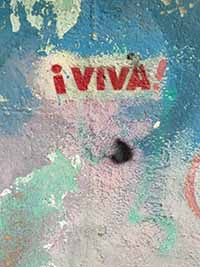 It left its mark on all of us. Short-pants with her tiara-like scar across the top of her head, Buddy-roo who doesn't always understand why her sister is different, even though what makes her different is something you can't explain to the kids in the schoolyard who can't comprehend the kind of wisdom that accompanies the experience of being resuscitated in an emergency room. De-facto and I, acutely aware of how precious life can be, still awed by the simultaneous fragility and absolute resilience of a 3-year old child who reminded us to live and love while we can.
The drama of those days is long behind us. There are no more follow-up appointments, no need for another MRI, no more fears that it will grow back. There is nothing that will inhibit Short-pants from leading a full, healthy and active life. What remains is the memory of how brave she was, how stoic and poised she remained over such an arduous hospital stay. What remains is the gratitude we felt, to our unwavering family and friends who supported us during those painful days. What remains is a day on a calendar page and the recollection of a brutal Sunday afternoon I would never want to repeat. It's a story with a happy ending we get to witness every day: our healthy, hopeful Short-pants growing into a remarkable young woman. And still, every year – except for the one year I forgot – on this late November Sunday, we mark an awkward anniversary. Maybe not your typical anniversary, the most poignant one we've got.