Not So Simple Syndication
This is a message for those of you who subscribe to Maternal Dementia via RSS, also known as Rich Site Summary or Real Simple Syndication. If you don't know what RSS is, or you've always wondered about those little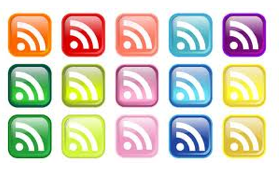 colored boxes (usually orange) were all about, click here for a good explanation.
My RSS feed has been routed through a service called Feedburner, which I used because it provided some statistics about who was reading via RSS. Google bought Feedburner a few years ago, but appears to be neglecting it now and rumor has it they'll be shutting it down. Just last week, my RSS subscriber number dropped by more than half overnight, so I think things are running amok.
If your method of finding your way to this blog is via your RSS feed, I have to ask you to please subscribe again through my new feed. You can do that by changing the feed in your reader to:
http://maternal-dementia.com/feed/
or by clicking on the orange RSS button in my sidebar under subscribe.
If you're someone who gets an email notice from me every time I post, then don't trouble yourself with any of this. But if you've been getting my updates – or maybe not getting them – via RSS, I hope you'll re-subscribe to my new feed.