The air was hot and thick, moist, confronting me as I stepped out of the airplane. I marched up the jet-way, headlong into smells I'd never smelled before but recognized right away. Smells raw and pungent, like the dank smell of dirt, the scent of people who eat and wash differently, the smell of untamed industry and much less regulated pollution. The smell of a city. Not just any city, a city in Africa.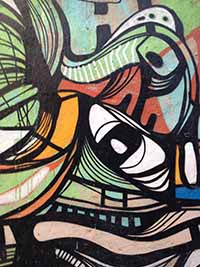 "Did they scare you with stories about Nigeria?" one of the participants of my workshop asked.
They had. I'd been warned. Nigeria is not a place you go lightly and nobody would have criticized me for refusing the assignment. The kidnapping of schoolgirls by Boko Haram was in the north – a good distance from Lagos in the south where I was going – yet a very troubling occurrence, one that remains unsettled. Nigeria is well known for its corruption, but also its violence and crime. This was not a place to wander about with naive curiosity. You have to watch out.
Still, I had a spring in my step. Traveling to new places is always an adventure, even if you have to exercise an extra dose of caution. Or maybe because of that.
~ ~ ~
My work is changing. I've always traveled to do it, since I started running workshops two decades ago. Originally it was in the domain of marketing and business, later with academics and scientists – still a primary customer. In the last year, though, I've been working to introduce our methodology to the sector of economic development. As a result, I've been traveling to countries in Africa: South Africa, Cote d'Ivoire and Nigeria. Or to Asia, last week I ran a workshop in Thailand. And there's a project in the works for Mexican assignment next fall.
I've been dreaming of doing this kind of work and now I'm starting up a new venture to realize it. I have the enthusiastic support of the colleagues, but at the moment the lion's share of the work falls on me: strategy, marketing, selling, managing projects and delivering programs. It's all terribly interesting, satisfying, and potentially very important work. But it does result in way too much to do in any given day.
As the work piles up in front of me, sometimes so high that I can't see over it, I have to sharpen my peripheral vision to keep an eye on my daughters. They are becoming more and more self-sufficient in practical ways: walking themselves to school, attending (mostly) to their own homework assignments, managing their wardrobes, making decisions about activities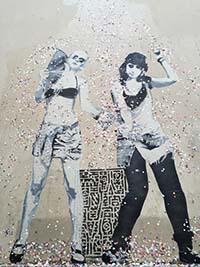 and friends. It's easy to think they're over the hump, on their way to adulthood. They might be on their way, but they're not there yet. They have teenage brains. They may appear to be adults. But they are imposters.
They have become, Short-pants and Buddy-roo, suffering teenagers. Suffering is too strong a word. They are both too lucky to suffer. Lucky to have a safe home, to be consistently loved. Lucky to go to school and to imagine a wide range of professional choices in their future. Lucky to have opportunities to travel, to receive their most desired gifts every Christmas and birthday. Lucky to have their own iPads and smart phones. Still, they suffer the things that teenage girls must unfortunately endure, passing through this disconcerting phase, painful and poignant, dabbling in the awkward art of self discovery while navigating the perilous social minefields of adolescence. These are the things that cause their very vocal, or sometimes very quiet, suffering. These are the things to watch out for.
I always imagined that it would get easier as they got older. Of course there'd be some teenage rebellion – the passage of separation – which we'd have to take in stride. But in general, they'd need me less, right? It turns out it's not at all easier, and they don't need less from me. It's not as physically demanding to have a 12 and a 14 year-old as it was to have two toddlers two years apart, but it's mentally taxing. The crisis of the day – and often there's more than one – requires a thoughtful response, one that is empathetic but not over-indulgent, one that soothes them as the same time prods them towards taking responsibility for their thoughts, actions and feelings. You cannot switch to auto-pilot parenting when with adolescent girls. Every thing matters. Every word matters. You have to pay attention. Especially if you're miles from home.
~ ~ ~
I lived in Hong Kong for almost a year, more than 20 years ago. It wasn't the best year of my life. The job that I'd come for wasn't the one I found when I arrived. The man who was my partner, proved not to be. My adventurer-self pretended it was fine, tried to make the best of it. But inside I was spiraling down, cursing my choices. What saved me? My creativity training. Tired of the feeling stuck at a dead-end, I gave myself an assignment. I opened a notebook and wrote without stopping – a stream-of-consciousness brain-dump of words – allowing myself the fantasy of what would be the ideal way of life if things weren't in the rut they were in. I wrote eight pages.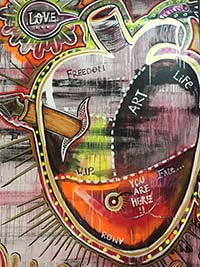 Fifteen years later, I found that notebook, packed away in a box of my things that'd been stored in my mother's basement. I was stunned to read what I'd written; the description of what I'd hoped my life would be like was almost exactly what it had become. Living in a European city, traveling, working with creativity, with a network of international colleagues with whom there's respect and rapport. It only fell short in that my travels weren't quite as exotic as I'd fantasized. But that was six years ago. Look where I get to go, now.
It's not that those pages became a blueprint, a strategic path I deliberately followed. I wrote them, put them away and didn't look at them again until years later. Some might say I'd released an intention for an ideal future and the choices I made, subsequently, reflected the vision I'd scribbled down. If so, they were choices made at a subconscious level. In retrospect my career path may look coherent, but it was haphazard in the making.
One thing that was noticeably absent from those prophetic pages: children. I hadn't factored them in. It wasn't that I didn't want any, they just weren't in the picture. I didn't have a vision for what it would be like to have kids, let alone how'd it all fit in with the life I dreamed of for myself. It still surprises me. I look at them, all long and lanky, and I think, how on earth did that happen?
~ ~ ~
It's easy to see the cracks in my parenting. For everything I've done well, there's something I could have done better. A bit stricter on this. Maybe more indulgent on that. More consistent across the board. More present. More plugged-in. I can already bullet-point the earful of grief their therapists will hear from them. I know I just have to ride it out, until they're in their forties, which is about the time I think most people forgive their parents for not being perfect.
They hate, most of all, when I go away on a trip. Short-pants marches around chanting, "No se puede ir," when she sees me preparing my suitcase. Buddy-roo hurls herself theatrically on to the couch. "Why must you go away? Why can't you work like normal parents?"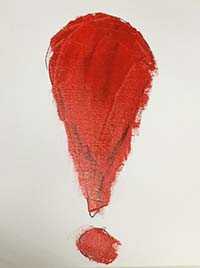 But I love it when I go away. I love getting up in the dark for a 5:45 am taxi. I love airports. I love walking down the jetway, the long tunnel to somewhere else. I love the outbound journey, infused with anticipation. I like the homeward trip, too, with its promise of the comfort of my own pillow and the reunion with my family. I count on the fact that even if they're mad that I've left, they've forgiven me by the time I get home.
I know there are things I miss – maybe important things – working as I do, being away for a week or two at a time. And even when I'm home: I burrow into my computer screen, or prattle away on back-to-back conference calls that kick off just as the girls get home from school. I tell myself it means I'm not helicoptering around them, but rather, watching out for them from afar, out of their hair, leaving them to learn to sort things out on their own. Not all things, but some things. I guess we'll only know if it's enough guidance when we see how they survive these treacherous teenage years. But that's why the work I do, and the travel it brings, is so important to me. It might be the key to how I survive their teenage years, too.