It all happens in the kitchen. The heartbeat of a home, the source of our meals, the place where everyone ends up congregating at a party. The kitchen stands for warmth, nourishment and togetherness. The stove and oven cook food that gives us comfort and strength, its refrigerator and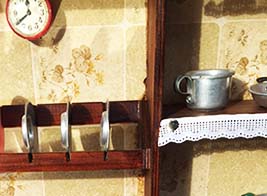 cupboards conveniently store everything we need for sustenance. A kitchen has a family connotation. Before I had children, I thought all a kitchen needed was a bottle of champagne in the fridge and a bottle of vodka in the freezer. Once we had a family, I realized – or remembered – what a kitchen really means.
Just after Short-pants was born, we tore down a wall in our Paris apartment to make our kitchen, dining and living spaces into one big room. In her bouncy chair on the table, or on her play-blanket on the floor, she could remain in line of sight while I warmed her milk or made a vegetable puree. During those early years when she and Buddy-roo could too easily walk into trouble, we could keep a safe eye on them. As they grew, the girls would stand on chairs on the other side of the kitchen island and help me chop vegetables or decorate Christmas cookies while De-facto watched from the couch behind them.
That open-styled kitchen – an "American kitchen" in French real estate terms – hosted many dinners, Thanksgivings and spontaneous pop-up parties (after school meeting and performances) just because it was easy to host a gang in such a big open space. Everyone would stand around the kitchen island and keep the cook company. And when I was the cook, I still got to be at the party.
Our Barcelona apartment has many fine features: a larger space than we inhabited in Paris, more rooms, enough for the girls to have their own bedrooms and both De-facto and I to have separate offices. The in-suite bathroom in the master bedroom is a boon and the girls have two sinks in their bathroom; no fighting for mirror time in the morning. But when it comes to the kitchen, it's a disappointment. At first glance, it seems nice enough: marble countertops, light wood cupboards that reach all the way to the ceiling (no need to stand on a stool to scrub away grease that collects on top). But it's too small: 6 X 9 square feet. Look closer and it's a bit worn. The appliances are tired, not particularly energy efficient. But my big grievance: this kitchen has a door.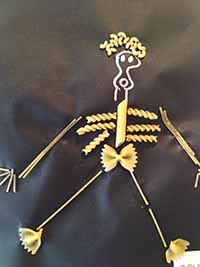 It's a wide door that slides open to a small dining area that's open to the main living room, so at first glance I thought it would be fine. But in fact, when in the kitchen I am entirely separated from the rest of the apartment. I find myself cooking dinner, alone, because even if the girls are on the couch, they're in another room. I can't see them and I can hardly hear them. I can't participate in their conversation unless I keep stepping out of the kitchen. And when we entertain, I'm in there all alone, checking on the hors d'oeuvres in the oven, or else four people have planted themselves in the kitchen with me and I am constantly grabbing my guests by the shoulders and moving them from side one side to the other in this tiny room, to get into a cupboard or access the sink. Inevitably, somebody is standing exactly where I need to get to.
We rent this apartment, so there's nothing to do about what is clearly a first world problem. But it's raised my awareness about the impact of a kitchen on the life of a family.
~ ~ ~
A kitchen is a store of fertile childhood memories. I remember, in my mother's kitchen, pacing around and around the stove and counters and table that together made an enormous island. I remember the drawers, one above the other, that I could pull out to create a short set of stairs to reach the top shelf on the snack cupboard. I remember my mother shifting her weight from foot to foot while standing at her kitchen sink, washing the dishes by hand and putting them in the drainer for me to dry with a dish towel. I remember the wide wooden board that she'd pull out from a slot between the drawers and cupboards to create extra workspace, and how at Christmas, it'd be covered with wax paper and cookies freshly frosted, waiting to be decorated with colored sugar.
I remember my father standing at the stove making Welsh Rarebit on Saturday afternoon, pressing the tiny square buttons to raise or lower the heat on the burners. I remember the bar he'd set up on the the kitchen counter whenever they entertained, and his law partner and best friend chastising my sister and me for putting an ice tray back in the freezer without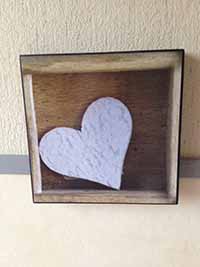 re-filling it. Like it was yesterday, I can remember my father leaning against that same counter, the morning of my grandmother's funeral, mystified at his own grief.
I can tell you the color of every floor we ever had in that room, the linoleum of my early childhood and the carpets of two renovations that followed. I remember the decorative carving on the shelves that held my mother's delicate demitasse teacup collection, shelves my high-school friends and I emptied and filled with beer bottles when my parents were out of town, the cups carefully replaced in exact order prior to their return. I remember standing in the kitchen looking out the window at the sheets on the clothesline the day my mother died, and feeling her absence so fiercely, that this was her kitchen and always would be and she will be standing in it forever, in my memory.
A kitchen like that, a room with so many stories, that's what home is all about.
~ ~ ~
When De-facto and I bought our country house, in 2006, it didn't have much of a kitchen. Some formica-topped furniture that didn't attach to anything, a wood cooking stove, a sink. We brought down an old 3-burner electric stove – the one we'd replaced when we'd renovated in Paris – and a fridge we inherited from who-knows-where. The house, that first summer, required massive attention so we focused on fixing walls and floors. We slept in a tent outside while we made the inside livable. There were enough kitchen pieces to cobble together a meal, and we manage to function in that make-shift kitchen, kind of like camping inside. Not just that first summer, but year after year. Each time I'd suggest that it should be the next project on our list, I'd be persuaded that creating another bedroom or insulating a wall and finishing the side room was more critical. I succumbed in part because De-facto (and his brother who owns the house with us) had good arguments. The kitchen was workable, after all.
Last year I finally put my spatula down and fronted the cash to turn the skeletal cooking space we'd been enduring into a real kitchen. A workable kitchen, with plenty of counter space, mice-proof (mostly) cupboards, a light and fan above the stove, an eye-level oven, a cupboard with vertical shelf just for cutting boards, cookie sheets and long casserole dishes. A local contractor took his time – because he could, we were gone all winter – building and fitting the cupboards, giving us a new kitchen that matches the rustic feel of an old country house. I even persuaded De-facto, usually parsimonious
about such acquisitions, that we should invest in a Cadillac sink, a mammoth porcelain farmer's sink that matches the original one. I like an auxiliary sink, for cleaning vegetables, or putting champagne on ice. I even shipped over a stool from my mother's kitchen, and it tucks just under the lip of a big square island, a centerpiece for people to stand around and lean on while preparing a meal, together, in a room that's not only functional, but hospitable.
We just spent ten days at our country house over the school spring break. After a few initial rainy days, we were graced with sun and spring temperatures. We opened all the windows and aired out the house. I washed all the laundry that had piled up over our winter visits. De-facto mowed the lawn and planted the garden while I pruned the hedges and liberated the rose-bushes that I neglected last year. And every evening, when it was time to make dinner, I could spread out all the ingredients in front of me, with ample workspace to chop onions, slice vegetables, marinate chicken, roll out a pie crust – whatever we needed to prepare the family dinner, all of this in the spirited company of my daughters, in a kitchen I hope they'll always remember.