The Let Down
The days leading up to Christmas are filled with such eagerness. The hidden shopping bags, do-not-enter warnings and the sound of gifts being wrapped behind a closed door. The setting up and trimming of the tree, and the moment that the decorated packages are placed beneath it. The restraint that we'd promised ourselves obviously abandoned mid-December, boxes with ribbons and bows multiply in the ramp up to Christmas. Then there's the relished ritual of making cut-out cookies and decorating them with frosting and colored sugar, complete with festive carols blaring in the background. Ella's Swinging Christmas maybe not the most traditional collection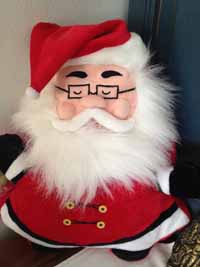 but I've made sure that years from now it's the one my girls will remember. The case of champagne – or here in Barcelona, it's a case of cava – is carried home and the a treasure of foie-gras and special cheeses fills the refrigerator. School finishes and the shortest days of the year keep us close and home. We light the menorah, too, to celebrate the ritual of my mother's religion, not that she practiced it piously but because it acknowledges another holiday that overlaps and shares a spirit of family and gratitude. Candles flicker, lights blink on the tree, the quiet of Christmas eve settles in and the anticipation mounts.
We can't escape the commercialization of Christmas. It's impossible, living the world we live in, not to absorb the materialism that has overtaken this holiday. We do our best to minimize it without taking away the delight that comes from receiving a small pile of new items that help to refresh a wardrobe, restock a bedroom bookshelf or add energy to the toy box. I remember this delight: as a child studying the Sears & Roebuck Wishbook and dreaming about what might be mine if Santa answered my pleas. I'd flip through the catalog for hours, staring at those pages so long I knew them by heart. Even now, looking at an archive of old Wishbook pages from the '60s and '70s, I'm stunned at how many of them I recognize. I never got everything I asked for and I knew I wouldn't, but my mother always managed to buy enough of the most coveted items so that those first moments of Christmas morning, coming downstairs to see what toys Santa had left – unwrapped for immediate pleasure – were exalting. All the waiting had been worth it.
Then the rest of my family would arise or arrive and once breakfast and its dishes were finished, we'd sit in the living room, going around one-by-one opening our gifts with oohs and aahs. A break halfway through for Bloody Marys and cheese and crackers, and the gift opening would resume. We'd stretch it out all day, to the delight of some and distraction of others, until, finally, the space beneath the tree was evacuated of its treasures, a few stray ribbons the only evidence of the abundance that once existed there.
After the last lovely box was unwrapped, the final thank yous circulated and someone was compelled to say, "Wasn't that best Christmas ever?" We'd nod and sigh and begin the process of tidying up, collecting the scraps of wrapping paper and ribbon that hadn't landed in the trash bag. There was the satisfaction of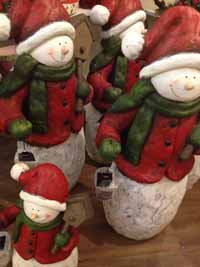 a stack of new possessions, but also a sadness: Christmas was, for all intents and purposes, over. Yes, the Christmas dinner was still ahead and more time together as a family. But the electricity-producing part was over. It was always a bit of a let down.
And you knew it shouldn't be. You didn't want it to be. But you couldn't help it. Something hollow in your gut, no matter how your brain would explain to you that it had been a great day with beautiful gifts and favorite people around. There'd been such a build-up, and so much of it crafted by marketing masterminds. Even in those simpler Sears catalog days, it was a strong feeling. You just had to work through it. By the next morning things were fine. It had been a great Christmas, maybe the best one. But you had to move through the sad bit before you could calibrate back to normal.
I watch Buddy-roo wrestle with this. Despite all the gifts she received this year, many of them specific requests and a few things she'd admired in my presence and then forgotten about, adding to her delight as she unwrapped and re-discovered them, when we were done opening everything, she got all mopey.
"If only I'd gotten an iPad cover."
I gave her the really? look, more of a scorn, and she ran upstairs in tears. I followed, because this is important. I wanted to acknowledge her feelings; they're real. I also wanted to give her a reality check: you're lucky to even have an iPad. Let alone all the new presents that just arrived. But I wanted to deliver both these messages in the right balance, because it's complicated, even the mildest form of post-festum let down.
The thing is, I know where she gets this from. Because I had it when I was her age, and I still feel it now. Some years more than others. For different reasons. It's the adrenalin drop after all the build-up. Even though you got truly terrific presents, it's the not getting that one thing you kept answering with every time someone asked, what do you want for Christmas? It's how we keep saying it's not about the gifts, but then if that's the truth, why is there so much hype about them? Mostly, though, it's feeling a bit disoriented in the aftermath of all the activity and anticipation, lost and alone even though you're with the people you love most and who love you most.
My father used to tease us, when an important event approached, like a birthday or a much-anticipated holiday, by telling us he'd heard on the radio that it'd been cancelled.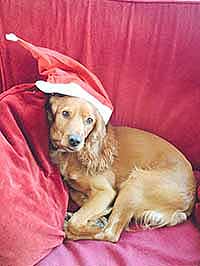 This is a family joke I've perpetuated, and Short-pants and Buddy-roo laugh and roll their eyes whenever we say it. So I don't know if they'd believe me if I suggested that next year we cancel Christmas. I'm serious. What if we took away the merchandise and commercial part of it, that makes it so much work, and creates such expectations and disappointments, and just did something simple together? It's not a new idea. Lots of families choose to travel rather than plunge into the trim-the-tree-open-presents-at-home routine. We've done it before. We spent Christmas away, in Cambodia and in Mozambique. Both times with warning that there'd be fewer presents because the trip was the gift we were giving ourselves. Yet as Christmas day approached, because the kids were young, because we're victims of the media, we'd cave in and start shopping. Granted, the booty was contained, but it was still booty.
This seems so appealing right now. But chances are in eleven months time with the Christmas season in full stride, I'll be sliding right into my role as executive producer of Christmas: shopping, baking, planning menus, coordinating our Christmas Eve open house. I'll buy the extra paper so that when De-facto sticks his head in my office and says, "do you have any wrapping stuff?" I can answer affirmatively. I'll watch the girls get excited and help them select gifts for each other and for their father. Christmas is, most of all, magic for the kids, and it's still magic for us, watching the kids. I'd wager that the let down, if we didn't do anything, would be more than the little let down that follows Christmas now. As long as we have kids, I think it's a guaranteed tradition.