In those days way before 9/11, you could accompany a departing passenger through security and wave goodbye at the gate. My parents drove me to the airport and stood beside me as I checked my bags. The agent handed me my ticket, her fingers red from the ink on the back of each of its multiple pages. On the way to the gate, my father made conversation by asking consecutive "what do you suppose" questions, thinking they would inspire me or keep me from getting nervous. Now, years later, I suspect he was living vicariously through me. When they announced that my flight was boarding, I hugged my mother and father goodbye, walked to the gate agent and showed her my ticket and without looking back, headed down the jetway.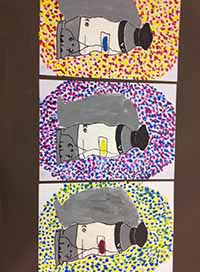 Later that day, I watched the other freshman on my hall moving in, their fathers like Sherpas behind them with boxes and blankets, their mothers overseeing the move-in or sitting on the bed chatting with the new roommate's parents. I'd arrived on campus in a taxi and happened to find a dorm counselor – still a friend to this day – who helped me carry my suitcases up to my room. I was glad to be there without the burden of parents, liberated from any of the eye-rolling data points my mother might share, conspiratorially, with the parents of my new peers. College was a time to go off on your own, and that is, literally, just what I'd done.
My new roommate's parents had driven her up from Philadelphia. I escaped their sympathy – "but you've come all by yourself?" – by slipping out to take a walk. I headed nowhere in particular, wandering the streets around the stately campus. It was the first week of September, the leaves had just started to turn. The late afternoon sun, low in the sky, cast my shadow long on the sidewalk. Just like my future, it stretched out before me. I'll never forget that moment and its sublime promise: anything can happen, and it's all going to.
~ ~ ~
I made that walk again, last weekend, returning to my university to celebrate a big reunion. I wasn't particularly rah-rah when I was a co-ed, and I haven't been the heartiest alumna, but lately I've been crossing paths with more of my college compatriots, and this reunion – my 30th – seemed like a good occasion to be more deliberate about reconnecting. I spent much of the weekend running to different events and parties with friends and old classmates, but stole a moment one morning on my own to take a quick detour, one that I knew would take me back to where I'd strolled that first day on campus. I walked up that same street, alongside an iron-gated quadrangle and under trees thicker and taller than when I was there years ago. No shadow was cast – it was a different time of the day and there was cloud cover – but I could picture the long shape that once loomed before me and the emotions that had accompanied it. All that promise. Have I fulfilled it?
~ ~ ~
How did I end up at one of my parents' cocktail parties? This was my thought, the first night of the reunion. There was a big dance on the campus green to kick off the weekend's festivities, but we got to reconnect at a pre-party just for my class, under a big tent near the athletic center. I looked around at my classmates, and though I recognized many faces, whether they were people I knew reasonably well or only smiled at passing them on my way to a lecture hall, I was stunned at how we're getting older. They'd all remained, in my memory, young and wrinkle-free because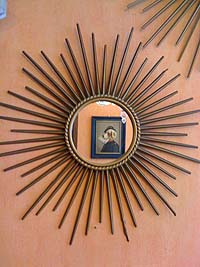 I hadn't seen most of them since 1984. Now to see the graying or receding hairlines collected together was a bit of a shock. Maybe it's just that I tend to live life from the inside out, looking out at the world knowing the the years are adding up, but always feeling, inside, a static, youthful age. An event like this holds up the mirror, a reminder of how relentlessly time passes. Not that we're in such bad shape, in general my classmates have taken care to attend to their fitness and appearance. But we aren't the feisty spring chickens we used to be.
The weekend was a mash-up of nostalgia and discovery. The campus is changed. I can still find my way around, though I noted the absence of a buildings where I'd spent the bulk of my time, now demolished and replaced by new landmarks. I visited a favorite professor, one who challenged me and made me think harder and deeper. He says he can no longer read and analyze, but at least takes pleasure from painting and listening to Irish music. I left his house soberly, guessing it might the last time I'd see him. There were those two inseparable girls who never managed to make eye contact with me when I was an undergraduate, still joined at the hip and unable to acknowledge my presence. Back then I'd wondered what was wrong with me. Now I wondered what was wrong with them. The nice surprise from that guy who seemed way out of my league all those years ago; it was with him and his lovely wife that I had one of the most thoughtful, engaging conversations of the weekend. Finally the after-party on the last night, like stepping back thirty years, a hundred people packed into a cinderblock-walled dorm room, crammed in the kitchen, lining the hallways talking and drinking out of red plastic cups, dancing with abandon in the dark with friends from way too long ago.
I'd like to tell you that the reunion was one oh-my-god-how-are-you hug after another, all-elbows with friends from the past, our shared history bonding us together inextricably. Maybe I'd hoped for that when I signed up, but even then I knew that the weekend would be filled with moments of reconnection and disconnection. It wasn't at all the impress-fest that it could have been – I found people to be very genuine – but there was an element of standing across from each classmate encountered and trying to figure out who not only who they'd become, but who I'd become. They all seemed to fall right back into place with each other, I was still trying to figure out where I fit in. There were moments when I felt like an outsider, not an uncommon feeling for me, but a mildly discomforting one to carry at such an occasion meant for reuniting. It wasn't until we were all assembled on the steps of the library for the class photo that I felt that feeling of detachment slip away. Instead of standing face-to-face, we'd all turned to arrange ourselves together on the steps, side-by-side, facing a photographer perched on a ladder. I felt thirty years slip away, and all those people were beside me, with me, shoulder-to-shoulder, facing exactly the same thing. A shorter future than before, but not without its continued promise.
~ ~ ~
A few of my friends sported a P'15 or a P'17 on their name tags, indicating their children were currently enrolled at our alma mater. At the big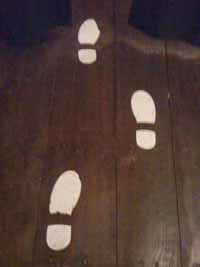 campus-wide dance, my sophomore roommate ushered me over to re-introduce me to her son. Only moments earlier I'd been laughing with the son of another classmate. Both young men were charming, articulate, good looking. Just the kind of guys I'd wish upon my daughters about a decade from now. Less than a decade, actually, for Short-pants. She'll be thirteen this summer. College may not be just around the corner, but it's not far down the bend. I would never press her to attend the same college as I did. But what if she wanted to?
I went to one of those universities that gets a boatload of applications every year and only a small percentage get accepted. I'm pretty sure that if I applied today I wouldn't get in. My guess is that Short-pants has a reasonable chance; she's bright and quirky, fits the profile. But is she bright enough? Does she need to ramp up her extra-curriculars? Would it help if I were more involved as an alumna? Should I be adding an extra zero to my checks for the annual fund? Do I have to start thinking about this stuff already? Do I have to think about it at all? Nobody's strong-arming me, but the gentle suggestion from friends who've been there is do what you can, just in case she wants to apply.
I have a great appreciation for my undergraduate experience, and though I've been subtle about expressing it over the years, a strong loyalty to an institution that helped me come into my own, on my own. It'd be a kick to see a P'23 or a P'25 on my reunion name tag some day. I'll happily drive them to the airport and wave goodbye. I can picture them roaming around the streets of the campus, wondering about what's ahead. But if it's going to happen, it's really up to them. That's the promise of the future, isn't it? Anything can happen. And it's all going to.