And in the End
I'd given up being organized by the time I got to this part of the Camino. At the beginning, I had to think through my itinerary in order to squeeze it into our family schedule and wrap it around my birthday celebration. But during these last two weeks I was very much in the groove of landing where I landed, sorting out stopping points and sleeping accommodations when it was time to stop or time to sleep. I had all my gear all the time – despite the pre-Camino back injury I never needed to use a bag transport service – this meant I was at liberty to call it a day, or continue on, whenever I wanted.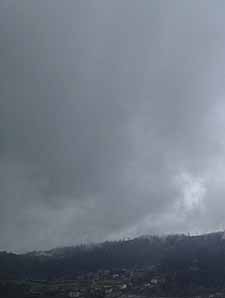 After Santiago, I'd heard, there were fewer places to stay and many might still be closed for the winter. I called ahead to a guest house/albergue in Augapesada, 11k from Santiago, to be sure it was open. This would be a respectable distance to walk given a mid-afternoon departure after the pilgrim's mass. The sky was a threatening shade of gray, and I wanted some assurance of a bed under dry cover. The next option wouldn't be for another 10k and I wouldn't make it there before it was dark. I'm told you can always knock on any door that has a shell on it, along the route, to ask for help,or shelter. I think that's to be saved for a real emergency, not for poor planning.
The gray clouds turned out to be much more than threatening and I arrived at the front door of the albergue thoroughly soaked, apologizing to the proprietor for the mud I was about to drag in. He was unperturbed about my wet backpack and my dirty boots, and showed me not to a room of bunk beds, but to a room with a princess canopy hanging from the ceiling, draped over a big bed with a thick, quilted cover. After a hot shower, I was invited to make myself at home in the salon in front of the fire while his wife did my laundry and cooked me dinner. I ended up being the only boarder that night, and it felt a little bit like I was in the tender care of surrogate parents.
The next morning, my host asked how I'd slept. "Como los meurtos," I said. Like the dead.
Apropos, since this part of the Spain is called Costa da Morte, or the death coast. The pagans believed that this is where souls went before ascending into heaven. Before Columbus and Magellan proved that the earth was round, it was believed that this was the end of the world, and to go out to sea beyond the horizon would mean sailing over the edge to your death, the ultimate end.
I was merely prolonging my ending, continuing from Santiago to Finisterre. I knew another end was in sight, at the coast, but I also knew it would take a few more days of walking to accept it. That's the thing about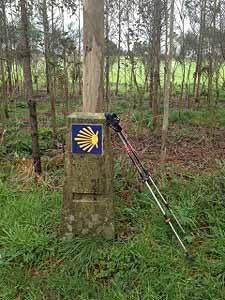 endings, they're hard to accept. Even when you know what's next. At the end of a trip, you're sad that it's over, but you know what you have to do: go home, do your laundry, get back into your routine. When you finish a big project, you grieve at the end of it, even if you're a bit relieved. Maybe you don't exactly know what's ahead but you have an idea, and soon enough the next assignment, vague at first, takes shape. But when you come to the end of your life, you don't know what's next. Is there a heaven? A next life? Is it just the end – that's what my mother thought – before an eternity of nothing?
Funny, this Camino, a religious path for so many people, turned out to be an existential one for me. Someway along the way, between O Cebreiro and Portomarín, I kind of wanted to know, like, why we're here.
I'm not the first to ask this question and I won't be the last. And it's not that I haven't asked it before, although I'd wager it was a more intellectual query. This time it had a different timbre. Walk 500 miles across the north of Spain, you have some time to think, maybe about things you thought before, but you think about them longer because you don't get interrupted. This presents an opportunity to pursue a string of thoughts much further than usual. And that's how I got here, during the last days into Santiago and the days beyond, toward Finisterre, with this what's the meaning of it all story. I imagine this sounds ridiculous and navel gazing to those of you reading this, but truly, you do get a little crazy, walking for fifteen days by yourself.
Maybe it was the rain. After five rainy days in a row, even though I'd surrendered to it, even though I didn't even try to stay dry, even though I knew everything I was wearing would be soaking wet by the time I got where I was going, I still had to ask myself, why are you doing this? I suppose with so much time to think about it, that very simple why expands to a larger, metaphorical and then metaphysical why. Every step I've taken from the French border to the coast of Spain is very meaningful to me now. But in a hundred years, nobody will know or care. In the end, what's the point? Why are we doing this walk on the planet? Why do we even bother?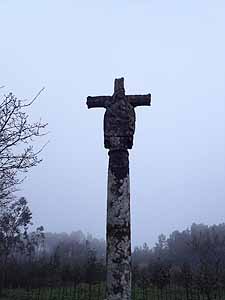 The religious view on this, one I respect as comforting to many but unsatisfying to me, attributes it to the will of a higher being. But why? The reincarnationists would have that we live over and over again to learn our life lessons. But why? Scientists say we are the product of a big bang that over billions of years led to life forms that crawled out of the muck and evolved into the sentient creatures we have become. But why? No matter which I might believe or understand to be true, the reason for the time spent on this earth – at least for me – is still unanswered.
This isn't the question I started out with, in those early, organized days of the Camino, when I wanted to walk and think about how to make the most of the rest of my life after a milestone birthday. I imagined that the question would evolve, and it's true that several questions emerged along the way. But the more time that passed, and the more I played by this land where you land playbook, the more I landed back this unanswerable question.
I walked 90 more kilometers beyond Santiago, more than half of that in the rain, the other half with the threat of rain. I slept in a damp, drafty, heatless albergue, on a bunk crammed in a room of snoring, coughing pilgrims. I found dryer, comfortable shelter, too, like the one with the princess curtain, or another, where I was all by myself in a room of eight beds. I navigated trails of deep mud, hopped over puddles nearly the size of a pond. I walked alone the entire time, the only pilgrims I passed, but for those I met at the albergues, were the ones coming the other way, returning to Santiago. This was the perhaps the most isolated leg of my entire trip. I experienced moments of private euphoria as never before, and moments of aloneness that were neither good nor bad, just profound. Every night I was relieved to remove my pack and take off my boots. Every morning, champing at the bit to put my pack back together and and set off for the next day's walk.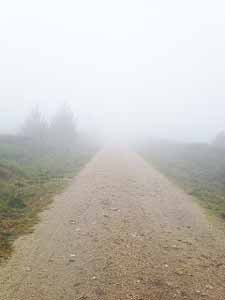 I landed in Finesterre on Good Friday. I crossed the moors that morning in the fog. I could smell and hear the ocean before I could see it. As I descended the wet, sandy and rocky slopes to the coast, the Camino gave me a last rain shower to make sure I got wet, one final involuntary baptism. That night the procession of the Saints, the Spanish tradition for celebrating Easter, passed by the window of my pensión, a parade of cloaks and hoods carrying saints and crosses like a funeral march to mark the end that comes before a new beginning.
The next morning, a huge surprise and a great gift, outside my window: sunshine. The real deal, with blue sky and good clouds, the kind that don't portend imminent rain. This morning's walk a very quick jaunt, just three kilometers to the tip of the cape of Finisterre, truly the end of the (old) world. I found a smoother rock amongst those on the craggy cliff and sat on it, thinking, meditating, talking to myself, watching the surf crash against the shore. So violent, its arrival, as if the water itself was surprised to encounter this outcropping of land.
It was still early. I was ahead of the tour buses that, in a few hours time, would crowd the parking lot on the other side of the lighthouse. I sat alone on those rocks for a good half an hour before a few random pilgrims came along – some I recognized from these last days on the route – and found their own perch. Quietly together, we looked out at the horizon.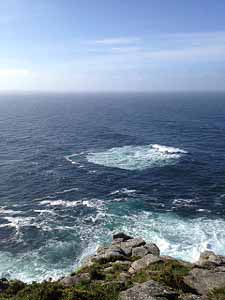 At the end of it all, there, looking out at the ocean, I could only shrug at this notion of why. I never came to a definitive answer. But there's another question, the one that follows naturally, one that absolutely did get answered for me during my walk on the Camino de Santiago de Compostela. I may not know why we walk this earth, but I think I know how:
Go a little bit slower so you don't step in the mud. Look up, so you don't miss the beauty. Smile whenever you can, it's contagious. Be kind, kinder still to those who aren't; they need it the most. If you need to be snarky (because it is therapeutic) do it under your breath. Take everything that is offered to you and be prepared to give away what you have, because other stuff will come. Figure out how, even if it's hard, to be grateful. It's better for you than being angry.
Throughout the Camino, but especially here, at this ending point, I couldn't help but think about my parents. They both loved to travel, and though they never would have endeavored this pilgrimage themselves, they would have appreciated my journey, my mother especially. I wished I could see her and tell her about it. And I knew that if I was missing my mother that much, my little girls were probably missing me something fierce, too. It was time now, I knew, for me to go home.
I pushed myself up off that rock, my perch at the end of the Camino and the end of the world, and picked up my pack and my poles, and made my way back to town, and the next day, back to Paris, to my man and my girls, to see if I could practice what I preach. This time, though, I did look back, so I wouldn't forget how far I'd come.