Finding Out
We stepped one foot at a time into the harnesses and pulled the bulky belts high around our waists. The tall men buckled us in, pulling straps tight, double-checking that the fit was snug. Everyone was handed a helmet and a pair of suede gloves, worn from use by many hands pressing down on wire cables. Because the electricity was out, we couldn't watch the introductory video. Instead a guide, who spoke English fluently but with a dark velvet accent, did his best to show and tell us what would happen.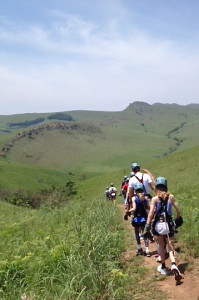 We piled into a safari truck, wearing all our gear, helmets already a necessary protection from knocking our heads against the roof during the bumpy ride that took us to from the lodge to the drop-off point. A 15-minute hike brought us out to a cliff overlooking the ravine. We climbed on to the first wooden platform, where the ropes connected to our harnesses were clipped to the guide wire at our feet.
Never at any moment was anyone not fastened on to something, either to a line on the ground, attached to the rocks by giant pins, or, in the moment we'd come to experience, on to the long wire that stretched over the open gorge. A large pulley unit was the primary device, that's how you rolled along the cable to the platform at the other side of the ravine. But there were always two other clips in place, for security. We'd been told this was one of the safest places for Canopy Touring, and that seemed to be the case.
"Are you ready?" the guide would ask when you were sufficiently latched on and secure for your ride across the abyss. "Enjoy!"
All you had to do was step off the edge of the platform and gravity would take over. A flight through the air, only the sound of the mechanism driving along the wire and the water cascading over the rocks below. Fifteen seconds of flying freedom.
~ ~ ~
Our friends had been to Swaziland before; it's an easy weekend trip from where they live in Maputo. Things change almost immediately after crossing the border from Mozambique. The hills and mountains rise around you, and the land shifts from dusty brown to a palette of greens. A house just outside of Mbabane, the capital, was offered to us from a friend of a friend, one with many bedrooms that easily accommodated our two families of four. We did a big shop on the way there, the kind when you buy way too much food that you never eat because you end up going to restaurants for more meals than you expected. We spent the week taking hikes, visiting various tourist attractions, like a revived glass factory or an eccentric candle-making workshop, and then, of course: zip-lining at the Malolotja Nature Reserve.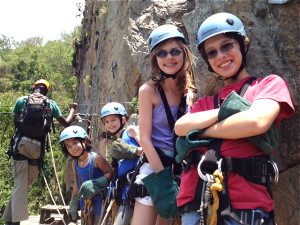 Our friends' kids had already tried zip-lining, and loved it, so we knew the activity was child-friendly. But our girls have a different appetite for adventure, and it's not as vigorous as ours. A little cajoling is almost always required. I knew for this to work it had to be well positioned to garner their enthusiasm.
It was Short-pants I was most worried about. She is thin and spindle-like, slightly uncoordinated. She's aware of her lesser athleticism and though we work hard to keep her moving and confident, it's her nature to avoid physical activity. I fully expected her to resist, until I thought of her role as Grandpa Joe in last year's school play, Charlie & the Chocolate Factory. After drinking the fizzy lifting drink Grandpa Joe sings a duet with Charlie called, "I'm Flying." This was my entry point. We talked about how zip-lining might be a bit like that scene in the story, when they're flying through the air. She said she was game. I couldn't tell if she was truly interested in this adventure, or if she was just humoring me. Or maybe she was afraid of disappointing me. I worry about that, sometimes.
That morning, as we donned sunscreen and sneakers, it was Buddy-roo, though she'd been instantly enthusiastic about the idea when it was first proposed, who came to me with her head bowed.
"I don't want to go." She can make her voice so little and glum when she wants to.
"It's natural to feel nervous before you do something new," I told her, "I bet you're going to love it." I was wondering, myself, if I was going to love it.
"I'm worried about my sister," she said, trying to think of another excuse. "What if she gets scared and freaks out?"
"You just worry about yourself," I told her, though I wondered, myself, about the very same thing.
~ ~ ~
There were eleven zip-lines zig-zagging along and across the ravine, eleven chances to sail through the air. This meant it wasn't a one-time shot. Once you started, you were committed. There was no way to turn back.
While Buddy-roo masked her fears by whining about her sister, Short-pants stoically adjusted her harness and her helmet, listened attentively to the guide as he reminded us of where to place our hands – and where not to put them – while gliding along the cable. We'd all gotten a lot quieter as we approached the first wire. I looked over at Short-pants and she bared her braces in a broad smile. If she was feeling frightened, she wasn't letting on.
De-facto went first and I followed; we both had cameras and were charged with capturing images of the kids and cheering them in as they came across the ravine after us. Our friends stayed to the rear, ready to coach the youngest members of our squad as each one took their turn. The first zip-lines were shorter and the drop below them not too steep – like having two starter flights to get used to the feeling and to figure out how to use your glove, with its leather palm, to slow down at the end for a good landing.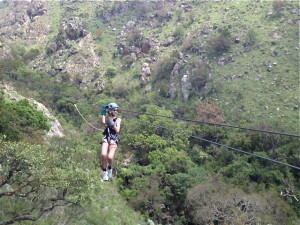 It wasn't hard to get a feel for how to speed and slow yourself along the cable. The guide at the receiving end was there to catch you if you barreled in too fast, or to coax you if you'd slowed too soon to make it all the way to the platform. He unfastened and quickly re-fastened my ropes to the ground cable and I quickly turned to snap shots of each child, as they came into view, one at a time. Short-pants, long and lanky even with her knees bent, glided and landed effortlessly on the platform. She raised her arms in a jubilant victory pose. Buddy-roo sped in a few minutes later, smaller and more compact, but fast and confident and just as exhilarated by the ride.
As we followed the rest of the course, the cables got longer, stretching over the wider, steeper parts of the gorge. The hurdle of how-to-do-it had been cleared, and both girls were beaming. Much like our family hike last summer, the self-esteem of both daughters expanded, visibly, after two hours and eleven rides dangling from a cable strung out over a deep ravine. I'll never know if they really wanted to try zip-lining, or if they were just afraid not to. But I'm reminded of how important it is to encourage our children to try to do new things they might not (at first) believe they can do. How else will they find out?