Waves of Love
I waited until Short-pants and Buddy-roo were dressed and downstairs, fully involved in their breakfast. Chances were good, once they'd reached that point in the morning, they wouldn't return to their bedrooms until after school, when I'd be long gone. I tip-toed upstairs and slipped the Valentine stickers under their pillows, each with a little heart-shaped message. I straightened the bedding thinking maybe they wouldn't see the little gifts until it was actually time to crawl under those covers, prolonging their surprise. I'd also addressed and stamped a couple of pink and red envelopes. They were in my bag, ready to be put in the postbox at the airport, hopefully to arrive in our mailbox at home, on Valentine's Day.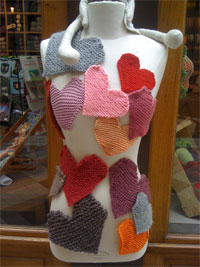 We all walked out together, De-facto carrying my suitcase down the stairs. It's rare that the four of us are out the door at the same time in the mornings, typically only one of us (usually De-facto) accompanies the girls to school. This time, they accompanied me to the taxi-stand and issued hugs and kisses and nearly-tearful goodbyes while the driver hoisted my suitcase into his trunk. They stood there, waving, while he waited for the light to change and allow us to plunge into the traffic.
This is the custom in our family – and don't ask how it started, it's just what we do – when you see someone off, it's required to stand steady and continue waving until the car that's whisking them away is no longer visible. I think it's a lovely way of saying we don't want you to go, but we do want you to go. You'll be missed, but we're excited for you and your adventures ahead.
The light took a long time to change. The traffic was heavy and slow and unwelcoming to a new vehicle. De-facto and the girls kept standing there, waving at me. I studied them, from a distance, as they were obliged to wait and wave from the other side of a green construction barrier that framed the repair work on the sidewalk between us. There they were, those people, their lives intricately interwoven into mine, everything mixed up together: our DNA, our dirty laundry, the pile of shoes by the door. That tall guy and those two bean-sprouting girls. That's my family. And I love them.
Hope you've all got good people to love. Happy Valentine's Day, everyone.