Easy On Me
She'd closed the lid on the toilet seat and was standing on it, looking at herself in the mirror. In her hands, she held up a plastic hairbrush with a green flowery pattern on the back.
"Was it you," said Buddy-roo, "who put my brush away in the wrong tray?"
I can't keep it straight, which brush – green or yellow – belongs to Short-pants and which to Buddy-roo. They always leave them in my way, so I toss any hairbrush I come across on the counter into either one of the plastic trays that are stuffed with girlie hair elastics and bubble-gum smelling sprays on their designated shelf.
"I don't like it when you put my brush away in her tray," she said.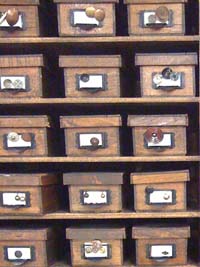 Tell me about it.
A system for stowing prized items ideally means you spend less time hunting for them and more time using them. It gives us a semblance of order, at least about the placement of basic tools we require day-to-day, aiding the creative process – something usually considered messy – by providing an underlying structure. If you're cooking up a masterpiece in the kitchen, you don't want to spend fifteen minutes rifling through your drawers to find a whisk, right?
This was a pet peeve of my mother. I'd hear her opening and closing drawers and cupboards in succession, mumbling to herself, unable locate an essential utensil or serving dish because a visitor, usually her mother-in-law, had put it away, not only in the wrong place but in an illogical one, so that she couldn't find it even with an educated guess.
"At least she was trying to help," I'd say of my grandmother, picturing her bending over into a cupboard, her hand reversed on her hip, a gesture she and my father had in common. "She's getting old. Give her a break."
My mother's compulsion is something I didn't understand until now that I share it. When the rest of your world is a mess and you're trying to run a household, it helps to have some ability to order something. The kitchen drawers might be the last bastion of control. A new babysitter and a new cleaning woman have recently joined our household, and despite a dozen years in the same kitchen, De-facto and I still aren't aligned on where things go. My mother, wherever she is now, is snickering at me.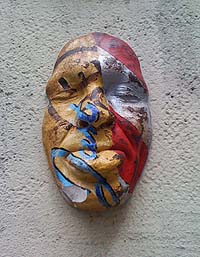 As much as she was irked by various visitors who couldn't put things where they belonged, my mother suffered, paradoxically, from the same maternal dementia, the feeble post-partum memory, that plagues me. I know well the chiding I'm in for, having doled it out plentifully. My mother used to ignore my exasperated rebukes, or she'd offer a half-hearted apology. Now I get it: when your mind is processing so many things, preparing for a meeting, sorting out a problem colleague, trying to get this and that done and still pick your daughter up from school on time to go to the orthodontist, the brain matter gets allocated to things other than the placement of a hairbrush or a preferred brand of toothpaste.
"I'll try to be better," I said, evoking the nuance of mother's half-hearted voice. I reached up to give Buddy-roo a hug. Standing on the toilet, she towered over me. She jumped down to the floor so I could put my arms around her.
"Someday maybe you'll have children," I whispered into her hair, "and you might find that your brain doesn't work as well it does now." I considered her ironclad capacity to retain melodies and lyrics from favorite musicals after only one viewing. Spelling words and vocabulary: not so much. I almost pointed out this discrepancy, but then I thought better of it.
"When your kids get all out of joint about you doing something wrong, I want you to remember this moment, this precious one right now. Then you'll begin to know the meaning of the word compassion."
"Compassion?" she said.
"You'll see," I said, walking out of the bathroom. It may take a couple of decades for her to get it. I hope I'm around to snicker.