Bowing Again
I called first. Yes, the store was open all day, until six. Yes, they had archet d'alto. The woman on the phone – I learned later that her name was Odile – asked me a question that would save us both time: what was I willing to spend? We agreed on a range, which was even a bit less than I had expected to pay. I was glad to know I could get a good viola bow without breaking the bank. I am an amateur musician, so I do not need top-of-the-line. But I was once a decent violist, and mine is a fine enough instrument to merit a bow that will make it sing.
There is a feeling that accompanies you when you carry an instrument, a kind of musical legitimacy that is not only broadcast but that is confirmed within. Walking down the street with viola case in hand, I had a kind of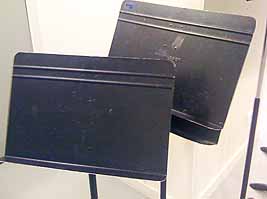 visceral nostalgia – not just a memory, but a replay of the feelings of that long ago time, fierce and full-bodied; I could feel exactly what it was like to be at a rehearsal. The faces of all my orchestra friends right beside me, looking up at the conductor as he scratched his beard just before raising his arms and snapping the baton. Those boys I had a crush on, the ones in the horn section, I could see them all, under that one forever-flickering fluorescent light in the back of the rehearsal hall. I was right there again, with all the harmonies and hormones of my youth orchestra experience, all this just from holding the handle of my instrument case.
It's been almost two years since my bow broke, ironically only a few months after taking my viola in to be totally refurbished after years of not playing it. Short-pants would practice for her lesson and I'd wish I could pull out my instrument and play, too. Sometimes the pieces she's assigned have two parts and she'd beg me to play along with her. But without a bow, I could not draw any sound from my fiddle, so I would answer to myself that I must absolutely carve out a few hours the next week to go to a luthier and remedy the situation.
Weeks and months and much more than a year went by.
Last week, Short-pants was practicing a piece for her lesson, a simplified excerpt from the 2nd movement of Beethoven's 7th Symphony. She was having a hard time staying in tune, partially, I determined, because she didn't know the tune. I found a recording on YouTube, and sat her down to listen to it. This particular movement is one that almost always draws tears from me, which perplexed her.
"Mama, why are you crying?"
"Because it's too beautiful," I told her. I didn't know what else to say. How do you explain the way music can move things around inside you?
~ ~ ~
Rue de Rome is lined with stores featuring cellos cases and hanging violins and other stringed instruments in their windows. I'm not sure how I would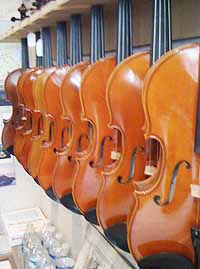 have known which store to go to had I not a specific recommendation from a friend who's a violinist. One finds this often in Paris: an entire street dedicated to the same industry, be it stringed instruments or textiles or handbags. How one purveyor differentiates himself from another amongst so many is beyond me.
Odile had laid out six bows for me to try. She vigorously rosined each one while I tuned my instrument. I was worried about playing in front of her. I hadn't played in a long time. Not only would the instrument be cold and closed, my fingers were rusty. I'd even forgotten to cut my nails. I knew this was silly. I shouldn't care what this woman thinks of my playing, I told myself. It didn't help, I was still self-conscious.
I picked up the first bow and positioned my fingers around the frog. I drew the bow across the open strings, just letting them ring. Then I started an old standard, Telemann's Concerto in G, a piece that every violist has played at more than one recital. I lacked the nimbleness I once possessed; I stumbled through the sequences of eighth notes. No matter, I told myself, just listen to the sound.
"They are all somehow different," she said, "and you can never explain why or how. You just feel it."
How true. One bow seemed to make a sound more metallic, and another slid too swiftly across the strings. Another harbored some invisible inertia, even with more rosin it felt heavy, sluggish. The next one was good, okay, but it still didn't feel like it fit me. And so on. I tried each bow, pushing aside the thought of anyone in earshot, immersing myself in the technical details of each bowing experience, analyzing it – but also feeling it – until I narrowed it down to two favorites.
Odile took my instrument and played for me with each bow to give me the experience of hearing them in use, not from beneath my chin but from a distance. Then she regarded my viola and asked if I liked those strings. And did I feel that the bridge was too high? I shrugged.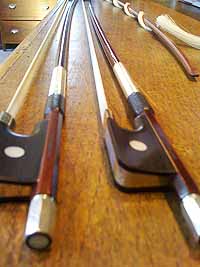 "Will you permit me?" I consented to new strings and the shaving-off of my bridge and watched her carry my viola up the stairs to the mezzanine where some artisan performed a magic fix. Fifteen minutes later, she handed my instrument back, and nodded at me to try the bows again.
There is a passage in the JC Bach's Concerto in C Minor that uses all four strings in a cascading rhythm. With this in mind, I selected one of the bows, and let it fall back and forth on all the strings in long, heavy strokes.
"Push with your finger," she coached me. I dug the bow into the string and used its entire length. The sound bellowed and danced around me, rich, voluptuous.
"Now try the same thing with the other bow." I did as she commanded. I forgot that anyone else might be listening, but pressed myself into the notes, bonding with them, breathing them to life. So quickly was I lost in the music, even with my scruffy, out-of-practice sound. I was playing my viola again.
It was clear that the second bow was mine. Like Harry Potter's wand had chosen him, I too had been selected. I ran my fingers along the polished wooden stick, pressed the taught horsehair up against my nose.
"Hello," I whispered to it.
~ ~ ~
That night, Short-pants opened her music case and I opened mine, too.
"You got your bow!" she squealed in full delight.
I suggested we play the Beethoven piece; she could play the first part and I'd play the third, so our harmonies would be distinct. We rosined our bows in tandem, and sat side-by-side with bows poised upon the D-string. I looked over at her, prepared to start, except she raised her instrument and dipped it down, the way an accomplished musician knows to lead off an ensemble. We plunged in, stalled and restarted a few times, but soon found our way to be in sync. After only a few tries, we played the half-page of music together start to finish. De-facto and Buddy-roo applauded wildly. Short-pants beamed. And for all the reasons you can surely imagine, I smiled too, keenly aware of just how music can move things around inside you.