The Lost Sandal
"Tell me a story from your childhood," she pleads, "tell the one about the lost sandal."
Buddy-roo is the captain of remorse, the herald of items-loved-and-lost. It is impossible to perform the seasonal clearing out of drawers with her present; shirts that no longer fit are still too precious to part with, she's steeped in sentimental logic about why we should keep those pajamas, even though they are too tight to even fit over her shoulders. She still pines for her blue checked seersucker sundress, the one with chocolate stains down the front, which was already two sizes too small for her when I finally gave it to the good-will, at least three years ago.
The sandal: a white patent leather thong with a cherry-red flower stitched under the ball of the foot, visible only when the sandal was off, but when you were wearing it you knew you had a secret beneath your toes. The leather was thick and spongy, like walking on a mattress. I loved those sandals.
That summer, the farmhouse down the road was inhabited by a family with two children. It was my first experience with what is very common these days – a famille recomposée – but I'd never before met two siblings with different last names. The family was of very modest means, their clothes frayed and slightly soiled, their personal hygiene wanting, though I was admonished by my mother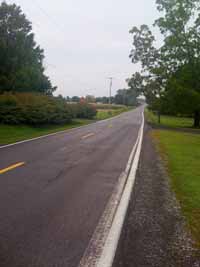 not to point it out and to treat them kindly and fairly despite how different they seemed. I was happy to play with a girl my own age – Linda was two years older – and I spent a fair amount of time down the road with her, though I was always slightly relieved when their brown rotary phone rang, summoning me to the cleaner familiarity of my own home which did not have the very-slight stench of urine that seemed to pervade theirs. I was always intrigued by their recklessness, how she disobeyed her mother without regret, how her brother Ray, two years younger than me and looking like a shoe-in for a casting of The Little Rascals, used to boast about riding his banana bike down the steep hill near our house at 80 miles-per-hour and pulling a 200-foot skid. To this day, my brother will repeat this claim, with the same I'm-a-little-tough-guy cadence, leaving my sister and me in stitches.
One evening after dinner I opted out of the activities with the boys across the street and ran down the road to play with Linda. The cows – belonging to the farmer who owned the property and rented to them – had been moved to another pasture so we were playing near a pond where they often grazed. We took turns running around the pond, timing how fast we could make a full lap. When I felt one of the sandals slip off my foot, I turned immediately to retrieve it, but I couldn't see it anywhere.
The sandal had just come off – I'd taken maybe two more steps, because of my momentum, before I turned back – but it had already disappeared, sucked into the mud. Linda came around to help and the two of us, on our knees, pawed away at the dirty, muddy soil in search of what should have been a clearly visible bright, white shiny sandal. I heard the phone ringing in her house but ignored her mother's shouting out that I had been beckoned home. I couldn't leave. I had to find that sandal. Dusk was turning night; we could barely see what we were doing when my sister came down the road to fetch me.
She promised that we'd come back first thing the next day and search until we found it. It couldn't go too far overnight, she reasoned. I could not believe that my favorite sandal had vanished into the mud and that I would have to leave without it. I hobbled home, one sandal on one foot, in tears.
The next morning, my cereal bowl half-finished, I ran down to hunt for the lost sandal. Hours of searching and digging and crying followed. It never surfaced.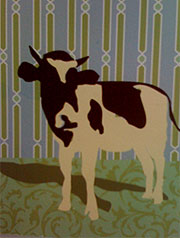 This cursed event occurred forty years ago. All these years, every trip home to visit my mother or to look after the house, I pass that pond and think of my lost sandal. Linda and Ray are long gone, that rickety house has been cleaned and renovated, its lawn now mowed and manicured. But the pond remains, just as it was; often circled by cows that turn and stare at me, just like the cows before them, pretending they don't know where my precious patent leather flowered sandal has gone.
I've told Buddy-roo dozens of stories about my childhood: of cherished Christmas rituals, of piles of fragrant autumn leaves, of lemonade in striped glasses sipped under the split-leaf elm, a chorus of summer crickets and fireworks viewed from our cupola. Yet this is the story she remembers most and wants to hear again and again; the one about my treasured sandal, lost forever.
"Do you still miss that sandal?" she says.
I picture the lonely sandal – I refused to discard it – gradually falling to the back of my closet, tumbled under each autumn's new pair of Buster Brown school shoes, until years later my mother insisted, during a spring-cleaning rampage, that we throw it out. Perhaps this is why it took three years to give away that seersucker dress that was already too small for her, and why those beloved pajamas still reside in Buddy-roo's drawer. The love of those lost, treasured items – or treasured items about to be lost – seems to run in the family.