Wicked Mother's Day
After sprinting down the stairs and turning the corner, Short-pants stubbed her toe on the step into the living room and exploded into screeching tears. I was careful not to run to her too swiftly – I hate to fuel the crisis with more panic – but still, a young girl's throbbing toe deserves a little sympathy. I kissed her dirty toenail (only a mother would do this) and offered the standard, reassuring words before turning back to finish unpacking the suitcase from our weekend trip.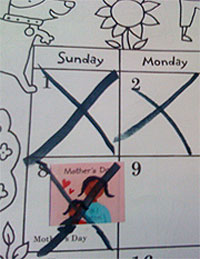 "No, there's something else." Tears were dripping down her cheeks like open faucets. "It's Mother's Day. I just saw it on my calendar. And we didn't do anything for you!"
Of course this was not news to me. I'd deleted scores of Mother's Day promotional emails that fell into my inbox because of the various mom-blog newsletters I read. But since we don't consume a lot of media in our home, let alone American media, the over-marketed Mother's Day messaging somehow didn't reach anyone else in my family. I am perfectly capable of hinting at it, "You know what I'd like to do for Mother's Day is…" and in the past I have. But sometimes it just feels akward to be pointing it out.
I'd pretty much put it aside. Who wants to be held emotional hostage by a Hallmark holiday? Though if anybody deserves an extra day of appreciation – even if it is the commercial idea of a greedy greeting card company – it surely is your mother, often the most taken-for-granted person in the family.
My brother did call to wish me a happy Mother's Day, inquiring if I'd been celebrated sufficiently. "Look at it this way," he said, "you didn't have to pretend to enjoy that burnt-toast breakfast and wax enthusiastically about the handmade cards." He had a point.
~ ~ ~
De-facto had reason to be in the UK last week, and another project scheduled there again early this week, so instead of him doing a back-and-forth, we decided I'd bring the Short-pants and Buddy-roo across the channel and we'd play London tourists for a weekend. We have some new colleagues-turned-friends who generously offered us accommodation, tackling the hardest part of being a tourist in London: the cost of hotels. With a little bit of juggling schedules, training in and out of the city and making use of the left-luggage service at the station, we choreographed a busy weekend: the London Eye, the British Museum, Westminster Abbey, and a matinee show of Wicked, the story of the Wizard of Oz before and after Dorothy lands in Munchkinland. Both De-Facto and I had seen it on a kid-free London theatre weekend a few years ago, so we labored a bit over the decision. Both of us wanted to see something that we'd not been to before, but in the end I pressed for Wicked knowing the girls would love it. Besides, they're both stars in the Wizard of Oz school play, so this was relevant backstory. (Shouldn't "parenting travel" be tax-deductable?)
One of the cool parts about being a mom (or a parent, for that matter) is introducing your children to culture. It's not the first time we've taken them to the theatre, they've seen stage performances of On the Town, Les Misérables and The Sound of Music in Paris at the Chatelet Theatre, which is pretty special. But nobody does theatre like the West End. And we had brilliant seats that were just-the-right-amount close to the stage. I spent as much time admiring my children's open-jawed, concentrated-awe as I did watching the actors performing their story.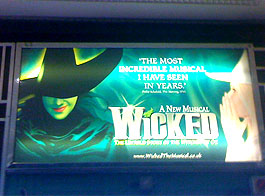 My favorite moment: at a climatic point in which Elphaba, who was good-hearted and thoughtful before becoming the Wicked Witch of the West, stood on stage with Glinda, who'd been vain and self-centered before growing into the more gentle-hearted Witch of the North, and they sang to each other about the important exchange their friendship had yielded. In one song, an ambiguous complexity of life expressed: how circumstances can turn someone good into someone wicked, and inspire someone wicked to do something good. Short-pants moved her hand on top of mine, and I turned to see a tear sliding slowly down her cheek.
"It's sad," she said, "but it's also happy."
Much like the sappy scene in Pretty Woman when Julia Roberts' character goes to the opera and gets it, not only did Short-pants love the staging and the magic of the performance, she also understood the poignancy of this moment in the play. To witness how this moved her, well, I suppose that's right up there with the coolest Mother's Day presents you can get.
~ ~ ~
She sobbed in my arms. I'm sorry maman, we should have done something for you today. I didn't even make you a card."
Here's what you're supposed to read next: "and in that moment, I realized this was the joy of motherhood, and the only acknowledgment I needed." But I'd be lying if I reported to you that in an instant I relinquished any residual, though mild, disappointment I'd been harboring.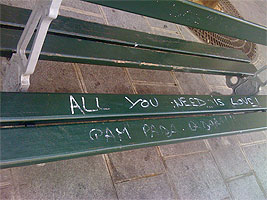 I'm a little more wicked than that. It took me a few more breaths, a couple of my own tears at being forgotten (except of course I know I'm not) and a short visit to the memory bank. I'd spent a fair amount of time, on this Mother's Day, thinking about (and missing) my own mother, whom I took entirely for granted as a child, and whom I treated with the typical disdain of a teenager. I grew to admire her, and then (especially) to appreciate her after becoming a mother myself, when I began to understand what kind of a sacrifice is required to be a mom, and how she'd done it so elegantly. I never knew if it had been hard for her or not.
Then, okay, I could get there, to see the message in this beautiful expression, this whole-bodied apology – how my little girl's heart was breaking because she was afraid she'd broken mine. So when I said that "this hug is the best gift you could give me for Mother's Day," I really meant it.
We embraced for a long time. Buddy-roo even came over and put her arms around the two of us and joined the love-in.
"But wait," Short-pants said, lifting her head, "we still have French Mother's Day to celebrate." Her eyes lit up with an idea. "I'll make you breakfast in bed!"