All that Magic
When I phoned to make my reservation, I braced myself. "It's a magical morning here at the Disneyworld Yacht Club resort! Thanks for calling! How can I help you today?" It must have been a gag reflex that induced my coughing fit, the agent had to wait for me to recover before collecting information for my reservation. He chirped right along and I answered, wondering what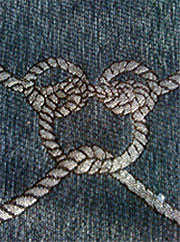 he was like during off-hours. Did he get mad at his kids? Did he shout profanities at his wife? I shouldn't complain: it was an effortless procedure to reserve my room, and any extra questions I had about my arrival in Orlando were answered in the most upbeat but efficient way. A final, effusive moment of customer service as he closed the call: "Ma'am, I do appreciate you making your reservation with us today, is there anything else I can do for you?'
"Well, yes, in fact," I answered him, "You could be a little less cheerful." He laughed. "Okay, ma'am, I'll try."
Perhaps I've been immersed in the French pessimism for too long – it's not that I don't wish I could get this kind of delighted-to-help you attention at home in Paris – but something about the happy-on-steroids tone of everything Disney provokes my sarcastic evil twin sister. Arriving at the Orlando airport, every wider-than-necessary smile and über-friendly remark as I made my way to the Magical Express transfer bus grated on me. On the magic bus, a TV commercial the length of the ride from the airport to the hotel offered up a numbing combination of deep, enthusiastic voices and flashing lights and colors. Then the exuberant welcome from every staff member as I entered the hotel lobby. I kind of wanted to scream. It was as if my heart couldn't handle so much hospitality. Or hype.
The purpose of my trip was professional; that's why I found myself in the world's most famous family resort without my own. The participants of the training I was running hailed from many different organizations, but a handful were cast members, ergo the invitation to hold the workshop at Disney.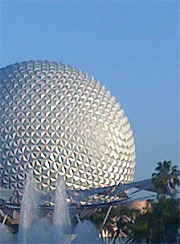 We were hosted in a large meeting space at the far end of EPCOT, on the second floor of a pavilion that is no longer used. This meant each morning we strolled through the park to get to our meeting room, and the gate we were escorted through was just beside England and Canada. By the end of the week I knew by heart the music tracks that accompanied each country's faux-setting. Further along in the park, near the iconic geodesic dome a sound track of futuristic schmaltz attempted (I think) to conjure up a feeling of the wonder of technological efficiency. Funny how the sterile technology we imagined years ago, when EPCOT was first designed, looks much different from the real technology we know today, which rather than simplifying and minimalizing seems to be sloppier, and more complicated and distracting.
Midweek one of the cast members participating in our program made a special announcement: everyone at the training was invited to a press event at the Magic Kingdom. This entailed V.I.P. passes to a private party in the evening when the park would otherwise be closed. My enthusiasm wasn't entirely feigned; I appreciated the generous gesture. But did I want to immerse myself further into this cheerful, hand-waving, ever-smiling world? Later, when announcing the details about where and when the bus would collect us, I asked – as if it was to benefit the participants who might be worried – how we might leave the event mid-way if we didn't want to stay. It wasn't impossible, we were told, but it wasn't easy to do. I wondered if I'd be better off staying in my hotel for a quiet night.
Opportunity is not something lost on me, however, and although I was reticent to commit to the event, I remembered some 20+ years ago when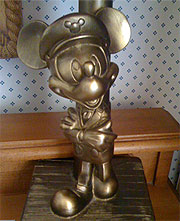 I worked in the media and I was flown to Disney to attend a promotional weekend. It was fun. We'd had easy access to every ride, attraction and Disney character roaming the park without ever waiting in line. It had, of course, ruined all subsequent visits to Disney where the snaking lines, though creatively managed, meant spending the same amount of time standing and waiting as playing and riding. It's not every day you get invited to a V.I.P event, I reminded myself; probably a good idea to take advantage of it.
The coach circled around to the side of the park and we were driven through parts of the behind-the-scenes space that looks remarkably plain, ordinary. It was about as back-stage as you can get, but as soon as we walked through the hidden gate into Frontierland, a row of lively cast members lined the walkway with trays of drinks and snacks and high-spirited greetings. Throughout the park, rides were open and running, and line-less, so we stepped immediately into the elevator of the haunted mansion and without any delay into the carriages that meander through the caves of Pirates of the Caribbean. Our Disney colleagues who'd arranged our entry didn't just dump us in the park and go off to do their own thing. They took us around, optimizing our time in the park and illuminating little details that we'd otherwise never notice. The restaurants that usually offer the typical fast-food fare of American families were instead set up with buffet tables holding a more sophisticated spread of food and drink. After we dined, we were prompted toward Main Street, USA where dessert and coffee accompanied the special light show and fireworks.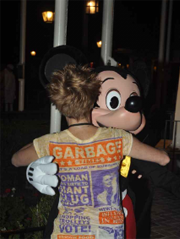 Of course I had a photo opp with the famous Mickey and Minnie, and though I couldn't resist making an aside about the sexual advances I endured during Mickey's embrace, it was my only snarky comment of the night. That's because before I could stop myself I started to have a blast. As the night sped by, I let go of the suspicious energy I'd been carrying all week, and I immersed myself in the full Disney experience. I ran through the park, jumping on my tip-toes, laughing, shouting out "look, it's Donald!" I could feel the smile permanently pasted on my face the entire time, and looking around at all the (mostly) adults there, I wasn't the only one. At every turn another delight was proffered – a just-baked chocolate chip cookie, cheesecake served in a creative plastic dispenser (my editor was off, "It's a cheesecake tampon!" I shouted, causing even the Disney server to laugh.) An amazing projection show that dressed the Magic Kingdom's castle in forty different costumes and colors, sent stars and photographs tumbling out its windows, an animated performance that dropped everyone's jaw to the ground. And if that wasn't stunning enough, the finale of fireworks left everyone buzzing.
This is what Walt Disney had in mind, I suppose. Certainly his world was designed to delight children, but he must have known how it would be just as important – and a much harder a task – to delight their parents and any other adults who found themselves, sometimes begrudgingly, in his park. At Disney last week I relearned something I purported to know: how to play. Not just going through the motions and being a little bit playful, but giving into the magic and surrendering willingly to the child inside.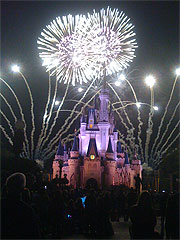 I hadn't mentioned to Short-pants and Buddy-roo that I was going to Disney. It felt wrong to boast about such a treat to them, and you may recall I wasn't that enthusiastic about going. But now I'm thinking a visit to Disneyland Paris is imminent. I'm even dreaming of a Disney cruise as a future vacation. (They christened a new boat this week, too.) Who knew I could come around to being so enthusiastic? Maybe that extra little hug from Mickey was all it took to be seduced by the Disney magic.