On Gratitude
Good literature, I've told my daughters more than once, always has tension. It's what makes a story interesting. This came up again last night when Short-pants and I were talking about her latest assignment: to write a short story in the style of Rudyard Kipling (great assignment, yes?). First we discussed Kipling's trademarks, which are, in her words, animals and nature. Then we talked about what makes a good story. "There has to be tension, something to resolve," she said, making me proud.
I spend a considerable amount of time in this electronic journal highlighting my own tension, kvetching about what's difficult: my life is a train wreck since the children came along, the administration required in this country is cumbersome, there's too much homework, he can't load the dishwasher correctly, the cup-choices at Starbucks are illogical. But imagine if I only wrote about how sweet my children are, how much I love their dad, how France is just one delicious cheese after another – I suspect after a while it wouldn't be a very good read.
I've noticed that I tend to focus – more now than I used to – on what's wrong with life rather than what's right. This might be a product of living in France, where intellectual analysis trumps everyone-getting-along, and where disgruntlement is well manifested in the ubiquitous French shrug. It might also be because the time I spend writing has increased dramatically over the last few years, and when you write only nice things it feels a bit superficial, so I feel compelled to dig into the underbelly of my life. Or it might just be part and parcel of being middle-aged and confronting the abyss between my ideal life and my real one. Or all of the above.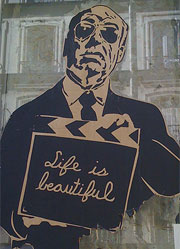 The other day, before even reading this #reverb10 prompt, I wondered if sometimes I think too much about what I don't have and not enough about what I do have. Because I have a hundred reasons to feel gratitude.
But if I had to narrow it down, to the one thing I've come to appreciate most in the last year?
I'm grimacing. It's very saccharine, but I have to say it. Brace yourselves.
It's De-facto.
I'm grateful that he came to France to be with me, so we could live our mildly exotic life and raise our children bilingually. I'm grateful for the two kids he made with me; the coolest parts of them, I'm pretty sure, were transmitted from his chromosomes. I'm grateful that he gives me as much room as I need, really, to do all the things I want to do. Take off to Mexico to go whale watching? Yes, do it. Go to Pamplona every July? Yeah, sure. He doesn't say no. He says okay, how?
I appreciate how he watches my moods from a distance and comments carefully. I'm grateful for his modesty and humility, his childlike willingness to play in the world. I'm grateful for his strong reassuring arms around me, especially this last year – which was occasionally brutal – when that's just what I needed.
And all those other little things about him that aren't exactly who I want him to be, or what I want him to do or how I want him to do it – well, they just add a little tension, don't they? That's why ours is such a good story.

I'm participating in Reverb10, and this post is in response to a prompt from author Victoria Klein: Prompt: Appreciate. What's the one thing you have come to appreciate most in the past year? How do you express gratitude for it?