The Escape of Memory
Day-to-day, small details are so easily forgotten. Even those scribbled on a Post-it, logged in an on-line to-do list or occasionally even emailed to myself. Before I had children, my mind worked nimbly. Now it's like a sieve. Yet all I had to do was set foot on Danish soil and so began a flood of memories. Driving through the elephant gates of the Carlsberg complex, faces of friends who drank that local beer with me, more than twenty-five years ago, return with precise detail. Deposited in front of Tivoli Gardens for a dinner with clients, I glanced down the street at the lights of Copenhagen's town hall square, and the memory of the daily crossing of the Rådhuspladsen came rushing at me like a mad parade.
Not just the images, I remember a whole chorus of feelings: how I nearly skipped across the square, jubilant and alive for the sheer adventure of living in a foreign country, or other days plodding across its weathered stones, unbelieving that I could ever construct a life that would meet my expectations, or simply because I felt sad, lonely and far away from home.
(How I long to be lonely now! There is always someone in shouting distance, interrupting or needing my attention. What a luxury, those angst-filled lonely days!)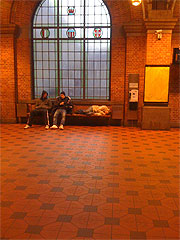 An extra day in Copenhagen was designated for a tour of that distant chapter of my life. It started with a local train to the central station, where the sight of my feet upon the tiles with their black on terra-cotta design recalled side-trips to other European capitals that returned me home to this station with a backpack full of dirty laundry and dozens of stories to tell. If you had asked me, last week, to describe these tiles I would have drawn a blank. Seeing them triggered memories of people and places I didn't even know were still stored in the back corners of my brain.
When I was a student in Copenhagen, I spent a lot of time just walking and wondering. Now, so many years later I was doing the same, but this time desperately trying to remember where was the doorway I used daily, to enter my school. Or that balcony I used to lean over, outside the architecture studio, or a hidden passage that was my favorite shortcut. I found most of these things – with only minor effort – but searched in vain for my favorite Café Peder Huitfeldt. I managed to find at least three little squares that could have been the cozy, out of the way square where (I think) it stood. Did it close after all these years or did I just forget how to get to that hidden place?
The night before, sitting around the dinner table with the family that I lived with as a student – everyone had congregated to greet me – I was struck by how we all blended together in exactly the same way as we did all those years ago. We are grayer and thicker, apparently wiser, unquestionably older. It occurred to me that my when they hosted me, my Danish parents were several years younger than I am now. They remember things I do not, regaling me with stories of my former foolishness. What I do remember – exactly – is the floor plan of the house they lived in then, the curves of their leather chairs, the design of my bed, the color of the sheets upon it, the way we sat together at the dinner table, even the weave of the tablecloth.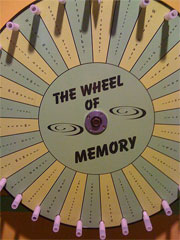 How do I remember certain things and not others? I cannot remember his name, that older man working on the film about the Danish resistance, who spun me into turmoil by inviting me to stay and work on it. My sister, heeding my father's request, wrote me a carefully crafted letter urging me to come home and finish college. I do not regret that I conformed to their wishes, it was right to graduate with the classmates I'd started with, and a small Danish film credit would not have made such an impact on my career. Now I remember very little of that man, of our exchanges, his offer. Did it really happen? I can feel all the feelings of that wrenching decision, as if they were last week's crisis. But the names, details, geography – it all comes in spurts and usually with a surprise, like seeing a movie you haven't watched in ages. What makes me remember some places exactly and others not at all? What brings some experiences to the surface viscerally intact, and others are foggy images that dissipate if I try to focus on them – if they're even accessible to me at all.
I speak the middle-aged language my parents spoke, spaced with lengthy pauses as I try to recapture what I started to say but forgot mid-sentence. I call Short-pants by Buddy-roo's name, and vice versa. I beckon the children to the table for lunch when I mean to say dinner. I can't remember numbers I've just added in my head. I forget almost all things that are not written down. I attribute this benign aphasia to the natural forces of maternal dementia, but it's not consistent. Sometimes my memory has perfect pitch, with every detail in place. How does my mind decide what should escape it? How does it determine what to remember?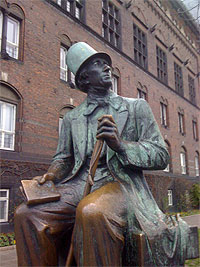 At the edge of the Rådhuspladsen there sits a big bronze statue of Hans Christian Anderson gazing off into the distance. When I lived here I visited him often, hoisting myself up onto the base of the statue, leaning up against his ice-cold legs. At age twenty, I was convinced he was looking off into my future; in our imaginary conversations he would reassure me about its promise. This weekend, meeting him again, his gaze looked less hopeful, more reflective. Standing before him now it seemed he wasn't looking off into the future at all. No, he was pondering the past, probably trying to place me, just barely remembering something from long ago – something close, vaguely familiar – nearly within his grasp, but not quite.