India Dreaming
The women sat in a circle on the floor – actually the roof, the meeting took place on the flat rooftop of someone's house. The cement walls of the balcony painted lime green, adjacent to a house of pumpkin orange, and each and every one of the women wrapped in a vibrant sari, the whole scene like a painter's palate of the colors of India. They chanted together, a call and response that sounded almost like a prayer but was probably a pledge to honor the agreement of this community of about twenty women, all of whom have come together in the name of micro-credit.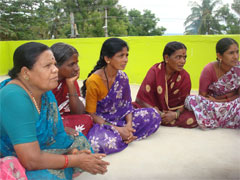 They have all taken a loan, something equivalent to several hundred dollars each, and they meet every week to check in on how their small businesses are doing, and to make a collective weekly payment. The interest ends up being nearly 20% by the end of a year-long loan, which might seem egregious except for the fact that they have no collateral and there are money-lenders who charge much more. It is a way to get the money to start a small business – to buy a cow, buy supplies for a small restaurant, retool a cottage-industry toy-factory – and to produce cash-flow for their household that they wouldn't otherwise be able to create.
We are in India, we came to lead a meeting for an organization, Unitus, an important innovator in the field of poverty reduction. Part of the meeting included this field visit, a chance for everyone who works at Unitus to see how important it is, the work they do, by visiting the microfinance institutions (MFIs) that make the loans, and also the clients who take them. Seeing it first hand makes you realize how important this work is, how what they're doing really matters.
A few of the women stepped up to the front of the circle where the representative of the MFI was seated and paid the installment in cash; the tattered bills were counted out carefully as they sat and watched. After the payments were made, they grouped in smaller circles and had a chance to talk with the women about their loans, their businesses, what they need. They are grateful for the loans, but they wish could they could borrow more. They have dreams of other things they want to do.
After the meeting we were taken around the town – halfway between Bangalore and Mysore – and several of the women showed us where they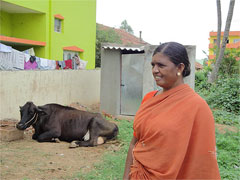 live and work and answered more questions about the kind of expenses they have. We did the math in our heads. Even though these loans are helping to create growing businesses and in some cases even employment to others, these families are still living on just a few dollars a day, sometimes less. And this is not the worst of the poverty in India, or elsewhere.
This morning, for the first time in too long, I woke without an alarm. No kids to get ready for school. No plane to catch. No workshop to run. Not a single pending activity that required timely attention. I woke naturally, when my body was finished sleeping. This is a luxury.
Without the need to bound out of bed (or drag myself out of it), I lay still, listening to the waking world. The metal ceiling fan in our hotel room clips along, some creaky piece of it not quite fitting, ticking like a metronome. Bird-calls I do not recognize come from the garden outside our balcony. Even though we are 5 km outside of Mysore, you can still hear the muted, distant sounds of the chaotic traffic in the city – rattling old buses and the distinctive beeping of the tuc-tuc horns.
Then, the sound of a crowd, cheers that crescendo and fall, whistles and buzzers: the sound of the Lakers vs. the Celtics. De-facto turned on the TV to watch the NBA playoffs. It is morning here, the night game is on in Boston; he gets to watch it live. He is delirious.
Our hotel was once a palace, designated for guests of the king of this region. Yesterday we visited the Maharaja Palace, it put this one to shame. But still, when we arrived earlier this week, this white domed, grand building made for an impressive approach. Once inside, the sense of opulence wore off. Though it is a building that speaks of its own grandeur, it is aged now, a tired tribute to its more glorious past. Still, I like it. Were it taken over by the Four Seasons and restored to immaculate elegance, it would no doubt be a work of commercial art, but it would not have the funky historic charm that it has now, that makes you feel like you have actually stepped backwards into another era of India's history. And because we are here off-season, and we were part of a large group, the price was very right. The group has left, but De-facto and I remain, taking advantage of such grand accommodation at a discounted rate (about this, he is also delirious) and resting, playing tourist. Mostly resting. Talking. Wondering about our future. Where should we be? Is France the right place for the girls? Aren't we both a little restless? Where else could we go? Would we return to the states? Go someplace else exotic? Is it time for a new adventure?


We laugh and dream. On some level we believe, we know, we can go anywhere we want. We can choose where we want to live, and find a way to get there. We can travel; leaving our children in the care of someone else, just to come to India for a week. We can go shopping at the silk emporiums and come home with gifts that our girls will appreciate, but they don't really need. Not because we are so very rich; we are not. But we have the means to do the things we dream of doing.
I keep thinking about those women, meeting on the rooftop, draped in their colorful fabrics, faces worn and weary from constant labor, but still somehow – amazingly – serene and beautiful. They work so hard and they don't give up. My life is privileged compared to theirs, but if they would only loan me a little of their grace, I might appreciate it more.