Food for Thought
There's wired and then there's wound up, and you might say I've been operating in both categories these last few weeks. The story is the same old tale, threaded through the fragments of my life told again and again on this digital journal: too much to do and not enough hours in the day to do it all.
I could use a month of Sundays and still be behind.
It doesn't help that in the middle of the usual juggle, an upcoming business trip to a rather exotic country requires a visa for entree, the application of which has cost me more time than I can afford. I could boast that my passport is too full of stamps from all my travels, except the lack of consecutive and completely blank pages created havoc with the process. I was instead directed to go to my own consulate to beg for an insert of extra pages before I could even make an application to go somewhere else. And along the way a dozen little setbacks, enough to make me sweat and swear.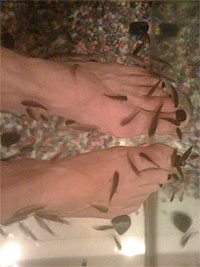 But I know that all work and no play makes me a dull boy, and so in honor of cinco de mayo, I treated myself – and a friend – to a fish pedicure, a most extraordinary beauty treatment that involves allowing a hundred little fish to nibble at your feet.
It started as a bit of a dare: my friend sent this link to me, knowing that I'd take the bait. I organized dual appointments so we could sit side by side and compare notes during the treatment.
Peering into the tank of tiny and apparently ravenous poissons, I must admit my hesitancy before plunging my pieds nus into the school of tiny garrarufa fish. They swarmed around my feet; there was no hesitation on their part to start munching away at the callouses on my toes and heels and ankles – and on the skin all over my feet, for that matter.
It was slightly irritating at first – unsettling more than anything else. But after adjusting to this sensation of something actually eating your feet, well, it was interesting. A bit like tickling. Or more like a continuous series of little electric shocks. Not really pleasant, but not entirely unpleasant, either.
Twenty minutes later my feet were as soft as they've ever been. All the little pieces of dead skin chewed away by little minnow-like friends. Twenty minutes later, I forgot about all the time I wasted on that silly visa. Things are in motion, it will all work out. Twenty minutes later I was unwound and unwired. And funny how everything on my list could wait.