Where it Starts
I watched them run ahead toward the grand dining room, confident, at ease. Short-pants set her book down on a table and grabbed a plate, Buddy-roo was already surveying the buffet table and deciding how to choose among the abundance. They forged into the crowd forming around the tables, picking through the platters of seafood, pasta salads, Italian meat and fried vegetables and filled their plates. On the way to their table, they stopped to chat with adults – new friends and old – engaging them in conversations about how the conference was going. My big little girls, so poised and polite. I stood aside and watched them, shaking my head.
We have been taking our girls with us to the CREA conference since its inception in 2003. That first year Short-pants was just under 2-years old. The hotel found for us a babysitter who spoke only Italian, so each day I made little drawings of bottles or a sleeping child next to the hands of a clock, indicating her schedule. I was also pregnant at that first conference; Buddy-roo was the wild idea growing strong-willed in my belly.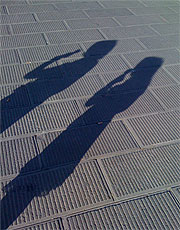 Which is to say that the girls are well loved among the community of leaders and participants who return to CREA each year. Many are friends we know from years attending the Creative Problem Solving Institute, (CPSI), the original creativity conference (which also happens to be where De-facto and I first met). The one year that I came to CREA alone, I was chastised for not bringing the girls. "They are our inspiration," my friends said.
We are not the only people in this clan who have children, but perhaps we have been – up until now – the only ones crazy enough to bring our young creatures to the conference for the whole week. This has never been easy. Both De-facto and I are usually running core programs that require our attention as facilitators for most of the very long days, and there's always a bit of extra planning and adjusting of the program to do in the evenings that requires our time and attention. A wide menu of concurrent activities calls to us at any given moment, not to mention nights dancing at the CREA pub or hanging out at the bar with friends. There's a lot to do without the kids around, let alone when they are tugging on your shirt for some mama-time after missing you all day.
We've experimented with different child-care formulas: hiring a local babysitter through the hotel, bringing our own babysitter from Paris, using the mother-in-love, taking turns trading the kids off to each other. It's never ideal and there's always the feeling of being totally stretched. Yet it has always been worth it: our kids have something special in them as a result of rubbing up against all these open-minded, open-hearted adults, some of them eccentric, many of them equally as childlike, all of them in awe of the sacred uninhibited spirit that lives in children who have not yet had their creativity taught out of them. This community covets that spirit, and in turn, keeps it burning in our children.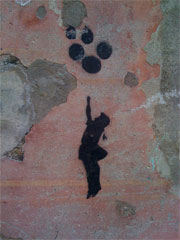 This year, with a bit of coordination in advance, a few other CREA friends brought their children, too, and we initiated the first unofficial CREA kids program. Ten youngsters from the ages of 6 to 14 – an entire pack of CREA-rats – made the Grand Villa Balbi Hotel their playground. My friend, la maman créative, brought her mother to help with oversight and to work with the kids to produce a journal every day about their activities. The mother-in-love and other CREA leaders and parents helped us to create a schedule of events and activities for the kids. There was a session on creativity by playing with light, another on meditation. Two about knitting, with fingers and with needles. One leader even organized a Harry Potter tour – arranging in advance with locals in the town to pretend not to see the kids when they passed by in their invisibility cloak.
Short-pants herself facilitated a session on how to make mandalas, which I was unable to attend because I was running program. A bunch of the kids helped la maman créative to lead a session titled Taking time to be Creative as a Family. De-facto was there for that, but unfortunately, I couldn't attend – a session I was running was scheduled at the same time. The irony of this wasn't lost on me.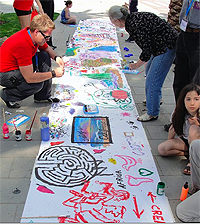 I did find one opportunity to play with the kids: We rolled out a 10-meter long sheet of blank paper on the sidewalk in front of the hotel and set out jars of paints and brushes. The instructions were this simple: paint. "What do we paint?" was what most of the adults asked. The kids didn't wonder why or what or how. They simply got down on their hands and knees, picked up a brush and some color and started painting. They didn't need instructions. They just started.
The beautiful thing about seeing the gang of CREA-rats running around the conference is that you see immediately how they belong there. It is in their nature to be creative. There is no hesitation to step into the flow of their imagination. Most children don't even know that they are being creative; they are simply at play. It is their way. This is, perhaps, why their presence at the CREA (or the CPSI) creativity conference is not only natural, it is just what we need.
(If you're interested in attending one or both of these creativity conferences, the next CREA is April 13-17, 2011 and CPSI, which has an official youth program, is coming up very soon, June 21-25. You can also read more from other bloggers who've been to CPSI: Jonathan Vehar, Cynthia Rolfe, Amy Basic, Gregg Fraley, Pablo Munoz, Whitney Ferré and Missy Carvin.)