End Pieces
Just as quickly as Buddy-roo's black-eye ballooned into a swollen mess, it began to heal. For a few days, she looked like she'd rather fight than switch, but now there is only a faint bluish-yellow bruise that is about to vanish. Kids heal fast. At first she didn't like all the fuss, but it soon became a badge of honor. She strutted around the school courtyard, and nobody messed with her.
De-facto pointed out a small discrepancy in my account of the accident: I wrote that buddy-roo "grabbed on to the railing, a good instinct except for the railing on a moving walkway is perpetually in motion." This implies that the ground was stationary. He reminds me that the floor of the moving walkway is always moving in sync with the railing. So my reasoning (she stopped and the railing didn't) can't be the why she fell.
Listen, I'm a writer not an engineer. I saw her go down and it wasn't pretty.
Short-pants and I passed that fateful ramp this afternoon when we made our way to the Conservatory. Long before we got to the ramp, she announced, "Mama, when we get to that dangerous part on the walkway, you shouldn't run down it. I've decided from now on, we should always walk on it."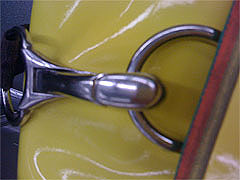 Speaking of good decisions, you can imagine I was dying to hear what happened when Short-pants declined the invitation to join the Group.
"Well, I was nice about it," she said. "I told them no, thank you."
Apparently her answer was met with some resistance, but they were unable to persuade her to change her mind. I probed for more information, hoping to get a little more detail about who were these friends and what was their collective purpose. "It's called the G-group," she said, "for girls only. And anyway, I don't want to be part of a group that doesn't have boys in it. It's not interesting enough."
One of my good gal-friends, a pastry chef at a Michelin-starred restaurant (and award winning truffle-maker to boot), stopped by the apartment last week to say hello and was shocked to see the laundry rack in our living room, laden with clothes hung out to air dry.
She admitted that when she read about our broken dryer and how we weren't going to replace it for environmental reasons, she thought, "we'll see how long that lasts." I'm happy to report, in case there are any other doubting readers out there, that yes, we continue to dry most of our clothes on the drying rack.
It should be noted, however, that just a month after the dryer broke, our washing machine died as well. (Oddly, we've had to replace every single major electrical appliance in our home in the last year.) We opted to purchase combo washer-dryer; that is to say it's one machine in which you can wash the clothes, and then you change the dial and it dries them. So we do have a dryer now. Though use of this drying function has been designated for towels and jeans, only. Everything else goes on the rack. We're trying, at least a little, to change our carbon footprint.
The weeks seems fuller than ever before. The constant motion of getting everybody everywhere with everything they need, while juggling a self-regenerating to do list leaves no time to rest, little time to grieve, just barely enough time to notice that spring has arrived here in Paris.
But it has, and that's worth an Alleluia.