Loving Christmas
Yesterday morning, Short-pants was early out of bed – a rarity – and crawled in with De-facto and me for a ritual cuddle. Buddy-roo came down a bit later and heard us whispering. She lurked in the hall outside our door, sniffling.
I took the bait and asked her what was wrong. She said she'd wanted to be the first in our bed for the morning cuddle. No urging could get her to let go of her disappointment and join us under the warm covers. She alternated between crying and pouting.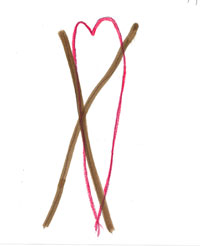 For a few moments she disappeared, and returned to deliver a picture she had drawn, indicating her love for me and her papa and sister had been withdrawn. She dropped it on the bed and returned to her post outside our door.
"I don't care if she doesn't love me," said Short-pants, "all that matters is how much I love her."
I'm not making it up; she really said that. As if we needed any more evidence that she possesses that little extra dose of love, strength and wisdom, and understands how to employ it.
After a long period of silence, Buddy-roo offered a suggestion.
"Mama, you know that store over near the Pompidou, with all the toys stacked in the window?"
"Yes?"
"You could go there and buy me something."
"That's one idea," I said, in my best non-committal voice.
So this is Christmas, I thought, from one end of the range to the other.
In the spirit of both of my beautiful children, I'd like to wish all the readers of this blog – loyal and occasional – a Merry, Merry Christmas, Joyeux Noël, Feliz Navidad, and don't forget a belated Happy Chanukah. I send warm greetings to you for the whole season; may you find all the love, strength and wisdom – and toys – you need.
And thank you for reading Maternal Dementia this year, that's the best gift I could ask for.