Da Capo
It's not that I want to be the back-stage mom, nor am I so certain that my girls have special musical talent. It's not even that I'm trying to establish a strong extra-curricular record so that they can get into an Ivy League school (I get a head-ache thinking about that). It's that I want the sound of music in my house. I want my girls to be introduced to the world of performing arts. Whether they pursue any of these arts with passion or professional intent, that's up to them. I'm just trying to orchestrate a little artistic exposure. Easier said than done.
At least I'm getting practiced at the art of the inscription. Regular readers of this blog may recall the debacle of last June, where I showed up early – but not early enough – for the registration at the conservatoire de musique. Given a placement of #53 on the list, my low expectations were realized when, at the end of the summer, I went to check the posting on the window to find that Buddy-roo had not been assigned to any of the initiation classes. Not for the solfège. Not for dance. Rien.
This is not a show stopper; there are other such schools in Paris, and ultimately I have managed to enroll Buddy-roo in a dance class at a nearby studio, but that's another story.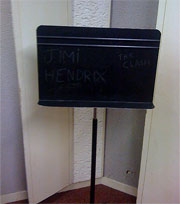 For an established student like Short-pants – she's been in the conservatory system for two years so she's guaranteed a place – the music track is a triad: theory, chorale + a musical instrument. The problem was her three classes were scheduled on three different days of the week, including a slot on Wednesday morning, which I'd indicated on all the forms I'd dutifully filled out that she had school and would not be available.
During the month of September, then, I made no less than four visits to the conservatory, each time to talk to someone in the bureau de scolarité about reorganizing the schedule. They weren't terribly empathetic about why I wouldn't want to schlep my daughter to the conservatoire on three separate occasions each week. I had to use my haute politesse to make a change putting two of the classes back-to-back on one day, easing our after-school travels. Once it was agreed upon, I still had to put it in writing, and then wait for the head administrator to phone me back to confirm the change.
The good news is I knew about the loophole that could get Buddy-roo started in the conservatory even if she wasn't accepted for any of the traditional initiation classes. Last week, I had an aside with the chorale director who agreed to accept her, giving the registrar no choice but to enroll her. Once she's in the system, it's automatic to offer her a full-fledged space next year.
But yesterday the clincher: Short-pants' first viola lesson. She's chosen this lesser-known stringed instrument not because she's so willing to play third fiddle, but because it happens to be what I played in my youth. I remember distinctly the day I asked her, very open-endedly, if she wanted to play an instrument. When she told me yes, the viola, I pressed her, "are you sure?" She beamed. So the viola it is.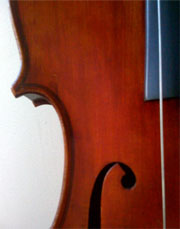 The teacher produced two half-sized instruments for her to try. My eyes welled up, with mushy parental pride and, admittedly, some nostalgia, when Short-pants held the shiny wooden instrument beneath her chin, and started plucking away at the strings.
"Do you have the certificate of insurance?" the teacher asked me as we packed up Short-pants' new viola at the end of her lesson. Up until now nobody had mentioned anything about insurance. I was directed to the office of the director, who told me that I needed only to procure an insurance rider for renting a musical instrument, and then they'd hand it over.
Here's where carrying an iPhone really comes in handy: I stepped outside, used my index finger, and quickly found my insurance agent on the phone. Not a problem, she said, I needed only to supply the make and the value. With that information, she could even have it ready for me in ten minutes. I walked back in and asked to see the director, again.
"But I do not have this information," he said, meeting me in the lobby, refusing to invite me back into his office. He was starting to get mildly hysterical. I'd interrupted him and this is not something he could easily provide, how these rental instruments are nothing fancy, the insurance company shouldn't need this kind of specific information.
I should mention that while all this was going on, I could hear Buddy-roo wailing in the hallway, "I changed my mind, I don't want to go to chorale." De-facto, who was accompanying her to her first class, attempted to calm her. Short-pants' soothing voice was audible, too, "Don't worry, "I'll be in there with you."
I noticed one of the guys at reception desk smirking into his lap, and took this is a cue to give up on the director. I knew I could call the viola teacher later, she'd get me the details I needed. Or I knew of other luthiers I could call to rent a viola on my own. I politely extracted myself from the discourse. When I turned around, the lobby was full of parents, staring at me. Could they feel my pain? I nodded around the circle of chairs, and walked outside.
Just last week, I remember thinking – rather smugly – that I'd finally organized all the school and extra-curricular details. After all the parent-teacher meetings, the trips to the conservatory, the dance studio, the doctor (health certificates needed), the messages back and forth to the teachers about schedules, acquiring the necessary books and notebooks and leotards and ballet slippers, figuring out with De-facto who picks up who and takes them where – it'd been a lot of work, sure, but I'd finally nailed it. Well, apparently not.
Who knew that being a mother meant being a personal assistant to two busy and sometimes temperamental executives?
An hour later, after a bit of fresh air and a restorative bière a la pression at a nearby café, I returned to retrieve my singing cherubs. The two of them skipped into the lobby, hand-in-hand, humming the remnants of a song they must have been singing together in the chorale.
When she saw me, Buddy-roo rushed into my arms. "I loved it!" she said, jubilant, "Can I come back next week?"
"Where's my viola?" asked Short-pants.
Yeah, I'm working on it.