On the Road
Have grip, will travel. That was my grandmother's motto. My mother, too, loves to travel and has voyaged to many far flung places. Travel is certainly my drug of choice. And apparently, my girls have acquired this gene for being happy on the road. They're happy to bob along behind us, backpacks in tow. No matter what the time zone, sleep seems to come easily to them. We still get a few cries of "Are we there yet?" But complaints are minimal, and the adventure of travel is generally embraced.
We left on a jet plane, Short-pants read her way across the Atlantic while Buddy-roo – in pig heaven with her private video screen – watched five movies (some repeats) without interruption.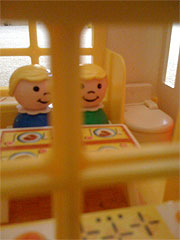 Even long drives don't daunt the wonder girls. Short-pants read her way across the New York Thruway. Buddy-roo had only as many movies as we had computer battery power. But that was enough.
Though they carry its passports, the United States is a country that feels foreign to the girls. At a rest-stop, Buddy-roo wondered out loud why the toilet seats were so much bigger than those in France. This led to a delicate conversation about the size of people's behinds in a country where portions are perhaps more generous than we're used to.
But everything is big here. Kitchen appliances are enormous. TV screens are expansive. Channel choices, exhaustive. (Buddy-roo, again, in pig heaven.)
At my mother's home, a flash-back to my playful past: every Fisher Price toy I ever owned is there, stored away to be brought out for just this kind of occasion. I watched my children sprawled out on the living room floor, their little fingers nudging the little wooden people through the rooms of my old doll house – and school house, airport, castle, etc. (I had an extensive collection.) I always loved those little people, little being the operative word since during the last thirty years safety measures have forced Fisher Price to change the design of its little people to make them too wide to swallow, keeping in step with the general size and girth of things on this side of the Atlantic.
What else is most noticeably large? The welcome we received from our family and friends, all along the route. The amount of fun we had. And of course the satisfaction we'll feel when we walk through our door – when we're home at last.