Technology to Boot
Unzipping a long leather boot should be an alluring act, unless of course, the zipper happens to get stuck and not only jams, but breaks teeth. This is the technological challenge that greeted me the other night when our neighbors invited us down for a quick coup de champagne. The occasion? Let's just say Ricky and Lucy are the best kind of neighbors, the kind that invite you for champagne simply because it's a Friday night. But there was a price: I had to fuss with the mangled zipper of Lucy's boot, stuck mid-calf. After some struggle, I managed to zip it all the way up, but I couldn't zip it back down.
Our children climbed up and down the ladder to the bedroom loft, falling into their own game while the flutes were filled and refilled and the adults discussed the events of the week. Beyond the zipper caper, we talked politics and the economy before the conversation turned – as most conversations these days – to Twitter.
Ricky said he didn't really get it, so I took out my phone and pulled up Twitterific (the iPhone app) to show him. This surprised De-facto, who didn't even know I was twittering. Well, not that I do it very often (twice a week). For me, Twitter isn't as much of a social networking activity as it is a killing-time-while-waiting-in-line kind of activity. About 140 characters is all the distraction you need until it's your turn to face the slowest bank tellers known to mankind (they all seem to work at my bank).
For you Facebook users, I'll bet what you enjoy most are the status updates. All the other applications (like Funwall — not that fun) were a novelty at first but quickly became tiresome. The barrage of applications you were forced to add every time a friend wanted to send you something new finally compelled you to join one of those silly non-active groups, Stop sending me applications that force me to see a friends score, right? After a few weeks, I shut them all off so I could focus on what I like about Facebook: the peripheral awareness that comes without any effort about what my friends are up to. I have clever friends, so their updates are, well, clever.
This is what Twitter is. It's Facebook's status updates without the rest of the noise. That's why it's taking off. (It's also why Facebook's latest re-vamp looks more and more like Twitter.)
Two years ago, while facilitating a meeting about data security and identity theft – which probably should have scared me off social networking – I listened to experts commenting about teenagers using MySpace and Facebook. This was frightening. It dawned on me that I had no clue what they were talking about. After that meeting, I signed up for Facebook, just to keep up with it for my kids. Ditto for Twitter.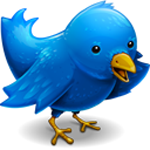 I've made my share of snide remarks about Twitter. I won't defend it: Twitter is silly. I'm afraid some people spend so much time documenting their lives that they forget to live them. It's like the white-sneakered tourists who walk around Paris behind their video cameras, never really seeing or experiencing the beauty of this city with their naked eye.
But I think that the consequences of participating in Twitter are not nearly as grave as those of not joining in: being locked out of understanding a technology that will no doubt dominate the lives of my children when they are 14-years old. Better to understand the ins and outs of this beast so I can help them navigate it smartly. True, by the time Short-pants is a teenager, there will have been (at least) thirty more iterations of social networking technology. But I think it might be hard to catch up if I haven't witnessed the incremental changes that get us wherever we end up. And then there's this: What if it's not so silly? Who knows what Twitter will become?
If I were a dedicated Twitterer, I suppose you could have gotten the whole leather boot story in real time:
Lucy can't zip up and she can't zip down.

The boots are many years old so it doesn't matter if we rip them. Is Lucy rationalizing or what?

Lucy is already thinking about the boots that will replace these.

Ricky has no interest in dealing with the unzippable boot, now or later tonight when they return home.

De-Facto has the WD40 out.

That boot is not going anywhere.
Facebook or Twitter, MySpace, Amazon, Ning… Hundreds of social networking sites – some entirely customizable – are out there to connect and distract us. You can view them as fad of the thumb-generation, another burdensome internet activity to challenge you and waste your time. Or you can see them as a technological tools that help us figure out who we are in relation to the people around us. I suppose it's all about how you use them.
And If you're wondering about the boot, did it come off and when, well, you'll just have to follow me on Twitter, then, won't you?